This guide looks at how to create a Test or Quiz in your Blackboard module.
Before creating a Test, it's important to make some decisions about what you are creating and why. Our pedagogical guide to Blackboard Quizzes discusses the benefits of using tests in your Blackboard module and explains some of the techniques you can use to make the most of them, including the use of Pools to build up banks of questions which can be reused and randomly drawn upon to generate tests automatically.
Creating a Test
Tests can be added to any Module Content area within your module.
Click on the Plus icon then Create Item and then under Assessment click Test.
Give the Test a name
Under Content and Settings click on the Plus icon to begin adding questions.
Instructions can be added by selecting  Add Text.  Note if adding a text item the randomise questions option will not be available.
Question Types
Ultra has the following question types for creating Tests, most question types can be automatically graded:
Calculated Formula
Essay (No automated grading)
Fill in the Blank 
Matching questions
Multiple Choice
True/False
You can allow partial credit and negative credit for answers to Multiple choice, Multiple Answer and Matching question types. Selecting this option means that you can specify what percentage of the total points should be awarded for each incorrect answer. You can also allow negative scores for incorrect answers.
Once you have created questions and Tests in Ultra there are options for reusing these into new Tests with either a Question Pool or a Reuse Question type.
Using a Question Pool question type allows you to select a number of questions from your existing Tests and display a select number to students each time they take the Test. If you change a question, it's reflected anywhere that question is displayed.
Choosing the Reuse Question option brings in an exact copy of the question(s) into your Test. Creating a copy means you can then change the question text, change your answer options and change your feedback – you may well be reusing that question because it's pretty close to what you want to ask but it's not perfect, in which case reusing the question means you can amend it.
Further guidance on each of the Test question types in Blackboard Ultra
Note: Don't delete Test in Ultra if you want to use any of the questions again, simply hide visibility to students to stop them from taking the test.
Adding a Question
The following talks though the process of adding a typical multiple choice question; the process for adding other question types is very similar.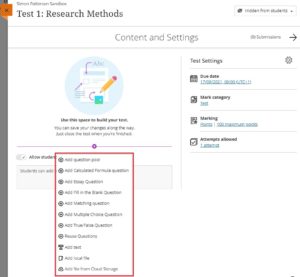 Under Content and Settings click on the Plus icon to begin adding questions. Select the Multiple Choice question type.
Enter the actual text of the question itself in the Question Text box.
In the Answers section, specify the number of answers available for students to select from and use the check box to identify the correct answer. Type your answers into the text boxes provided. Click the Remove bin icon next to an answer to remove it. By default, four answer options are provided. Click Add Choice to add further answers.
If required toggle on the Automated Feedback to be shown to students for both a correct and incorrect answer to the question. This is entirely optional, but can be used to signpost students to materials which may help them with the answer should they answer it incorrectly. You can change automated feedback settings in the test settings.
Check the points value is correct for the question.
Finally, click Save to keep your question.
Once you have finished adding questions to your Test check the Test Settings by clicking on the cog icon.
Test Settings
Details & information
Provide a Due Date for which students will need to complete the test.
Randomise questions and randomise answers to randomly order these for each student.  This can be useful if you have students taking the test together and don't want their answer options to be the same.
Marking and submissions
Specify the number of Attempts Allowed for each student.
Mark using a specified value Points is the default percentage and Letter are additional options
Assessment results
You can customise when your assessment feedback and results are displayed to students. If you add manually marked questions, scores and answers won't be released until after you've posted the mark. Students can see when their results will be released.
Additional Tools
Additional options are provided for including options to add an access code and Time limits to the test.  Students with extra time limit accommodations will not have the test limits applied to them.
Group Test
Tests can be assigned to groups from here.  Groups created from the Test will only be available to that test.  To create a reusable group create a group set from the module Actions & Details menu first.
Description 
Add a description to help your students identify the purpose of the test.  This will be visible in the Module Content view.
Deploying the Test
To deploy the Test to students make it Visible to Students either within the Test content area or from the Module Content area.  Release conditions can also be applied to Tests.
Reviewing Test attempts
You can view Test attempts from:
Activity stream – you're alerted when student submissions are ready for grading. Select the link to go to the gradebook.
Gradebook – In a module you can access the gradebook on the navigation bar. You can see who has made submissions and start grading.
The Test – select a test on the Course Content page select the Submissions link to see how many students have completed the test.
Question analysis reports can be ran for assessments with questions. You can run a report before all submissions are in if you want to check the quality of your questions and make changes.