By default, any template that you select will include several pre-created content holders that you will now be able to update to include details relating to yourself and/or information relating to the project you are developing.   
It should be noted that in some cases content may have already been automatically updated based upon details you have previously entered in your Adobe Creative Cloud account such as your name etc. 
To start to add and build up the content of your portfolio site you can either click on any of empty content containers (a + Add page option will appear in the centre of the container) and an Add Page dialogue window will appear.  You will be able to add content including a new Page or an Adobe Lightroom Album.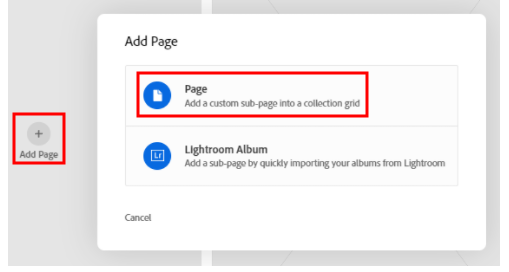 By adding a new page, you will in essence be creating a multi-page portfolio website.   
You will need to give the new page a title and a destination.  There is also an option to set this page as the homepage for your portfolio site.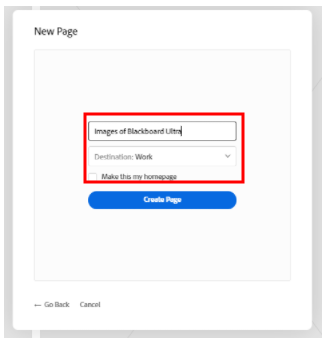 By clicking on the Create Page button the new page will be automatically created and opened and a new Start building your page content menu will appear.  From here you can add various content types including textual and graphical content.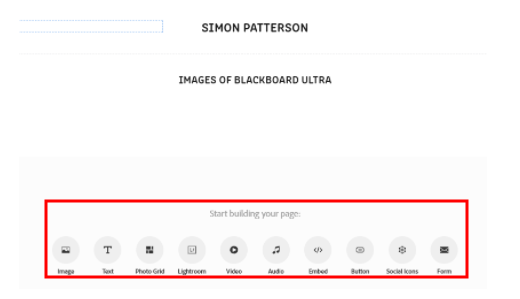 At any point you can preview how the site content will look in a browser by clicking the Preview button in the bottom left of the screen.   

A few tips for uploading images: 
Use eye-catching images, and lead with a powerful, overview image of the work. Present the whole piece first, followed by more detailed shots.

 

Select more than five images, but don't be exhaustive. Show the highlights of the work without going overboard.

 

Share the backstory: insight into the creative process gives context of the work and creates a memorable story about the work.

 

For examples of how exceptional showcased work are structured and presented, visit Behance.net and click into a few featured projects.

 

Additional pages can be added to increase the content on the portfolio site using the above method.