Turnitin is a plagiarism checking software product used by the university. We use it as another way of submitting your assignment submissions to Blackboard. As well as accepting your submission, Turnitin will provide you with a "similarity report". A "similarity" is where Turnitin believes your submitted work is identical to something else, without being quoted or referenced in an appropriate way.
Your module leader will tell you if you are using "normal" Blackboard Assignments or Turnitin Assignments. This is because not all assignments are appropriate for running through Turnitin, for example, software code or images.
However, "plagiarism" is not just about the deliberate copying of another piece of work. It is about producing an academic piece of writing with proper referencing and citation of other works, and which makes clear what is the work of the author and what is the work of others.
Like many other things, this is a skill which can take time and practice to get right. That is why we provide an area for you to check your work to ensure it meets these criteria.
You can also use this area to practice using Turnitin assignments and learn about how they work.
Accessing Check Your Work For Plagiarism
Sign in to Blackboard and click on Organisations in the main left hand menu
Find the organisation Check Your Work For Plagiarism and click into it.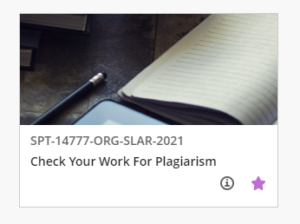 In here you will find information on how to use a Turnitin Assignment.
Remember: Do not use this area for submitting your "real" assignment submission. Only use it for practice. Your "real" Turnitin assignment will be somewhere in your teaching module.