Students can submit individual files up to 1GB (1024MB) in size directly to a Blackboard assignment. Although there is no limit on the total number of different files that can be uploaded in each submission. If you have an assignment submission larger than 1GB to submit, often the simplest solution is to split the file into two. For example, Word documents can be split with half the pages in one file and half the pages in another.
However, sometimes there is a need to upload very large individual files which are bigger 1GB. For example, video or audio files, which cannot be easily split in two. In this situation, Microsoft OneDrive can be used by students to securely store, submit and share the files.
Instead of submitting a file to a Blackboard assignment in the normal way, students submit the link to the file(s) stored on OneDrive instead.  Each student has 1TB (1024GB) of storage space on OneDrive and it can be accessed on a computer or a mobile device such as an iPad.
Note to Students: Please do not use OneDrive for assignment submission without the agreement of your lecturer or module leader.
The process is in two stages. Firstly, uploading the submission file to OneDrive; secondly adding a link to that file as an assignment submission on Blackboard.
To upload files to OneDrive from a Windows computer …
Go to https://onedrive.live.com and click on the Sign in link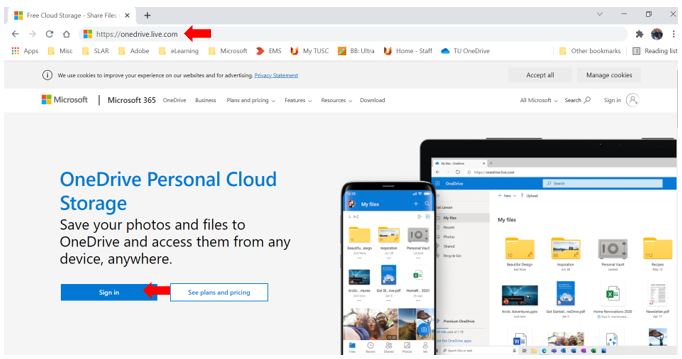 Enter your Teesside University email address, making sure to include @live.tees.ac.uk and then click Next. You will then be taken to the Teesside University sign in page, enter your password and click Sign in.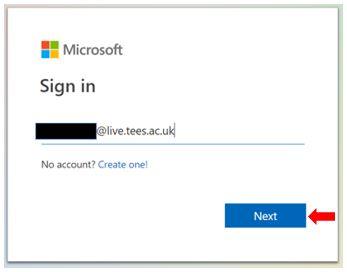 Once inside the OneDrive space, you can create folders to organise your files and can share them with other users, including students that you might be working with, or lecturers etc. Some applications (such as Microsoft OneNote) might create content in Microsoft OneDrive automatically.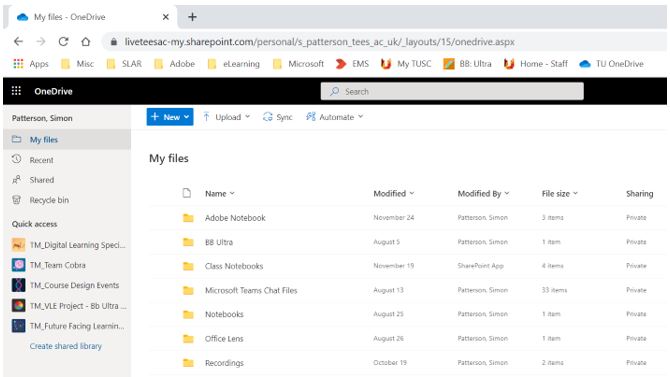 The first thing to do is make a new folder to store all shared files, it's an easy way to keep track of the files that you've submitted to Blackboard as links.
Note:
Once you have submitted a file to Blackboard as a link you must not delete that file from your OneDrive. If you delete the file, the link will no longer work, and your lecturer will not be able to access, download and mark your assignment submission!
Once submitted, the file/s will be date and time stamped and a Microsoft version control mechanism will be automatically implemented to allow the rollback to a previous version of the file from a specific date.  Do not attempt to change your work once the submission deadline has passed and you have submitted the link to Blackboard, as this will invalidate your submission and could stop the link from opening the submitted file, making it inaccessible to your lecturer.
Click on New in the toolbar and choose Folder.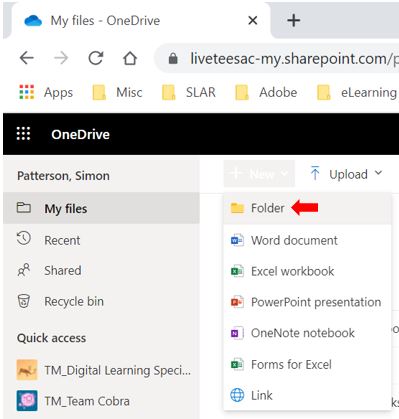 Enter a name for the folder such as "Shared Files" and click Create. The Shared Files folder will now be displayed on the page
Click on it to access the folder.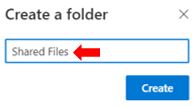 Click Upload in the toolbar and choose Files (or if you prefer to upload a whole folder of files, click on Folder instead).  Choose the file(s) or folder to upload. The progress of the upload can be checked by clicking on Uploading in the toolbar which appears when files are uploading.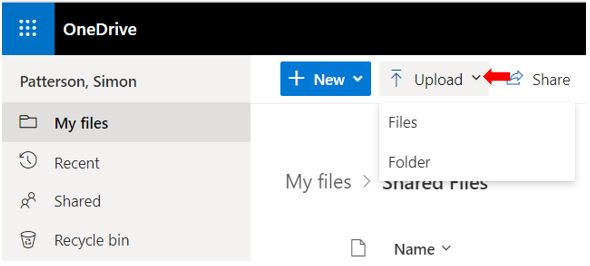 You can also drag and drop files and folders from Windows Explorer into this newly created Shared Folder area.
Once the file(s) have uploaded you will see them listed on the page.

To share the file or folder, you can click on the Share button that appears immediately after it has finished uploading. Select the file or folder that you would like to share by clicking on the circle icon that appears when the mouse is moved over the file or folder name and go to Share on the toolbar or click the share icon that is shown to the right of the file or folder name.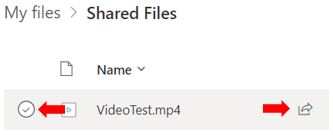 You can submit multiple links to individual files but if you want to submit multiple files you are much better off to put them inside a folder and share the folder.
Change the settings on the file(s) or folder you are sharing so that no one else can edit or make changes to it. Click on the text "People in Teesside University with the link can edit"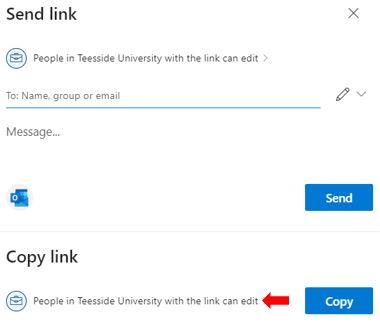 Under Other settings untick Allow editing.  Click Apply.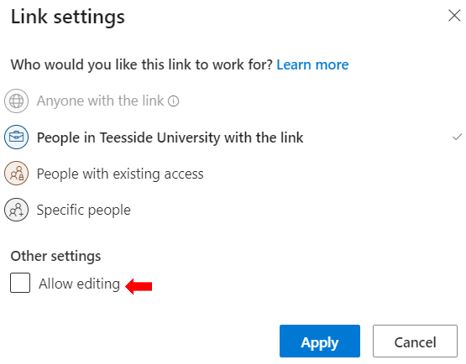 Click Copy Link. The link to the file(s) or folders you've shared will now be copied to the clipboard on the computer.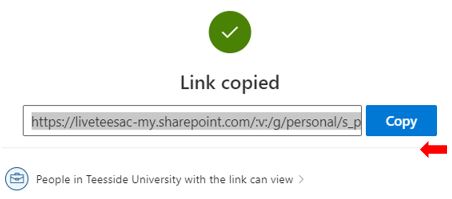 With the link to the shared OneDrive file/folder you can now submit to the Blackboard Ultra assignment. Go to https://bb.tees.ac.uk, sign in to Blackboard Ultra and go to the Assignment to which you want to submit the link.
On the Assignment Submission page you will need to click on the Write Submission button. Paste the link that you copied into the text box and click Submit to submit
Or you can use the Insert Link option.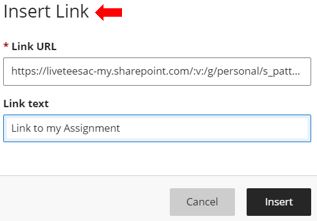 You might need to submit multiple links at the same time. In this case, go back to OneDrive and create sharing links for each file or folder you would like to share and add them to the text box one at a time before you click Submit.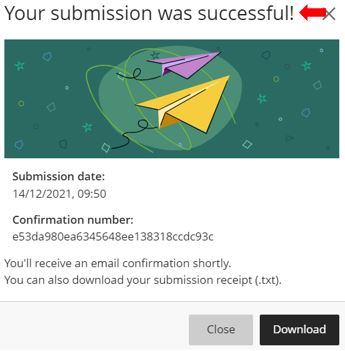 Your link(s) will be submitted, and you will receive an on-screen notification and an email submission receipt.
Important reminders for submitting Microsoft OneDrive uploads as assignment submissions.

When sharing a link from OneDrive, rather than directly uploading a file to a Blackboard or Turnitin assignment, it is important to remember that you must not:
Delete the file
Remove the sharing permissions
until your module assessment marks have been confirmed.
Specifically, shared files must remain accessible until after external moderation has taken place. Preferably files should remain accessible for the duration of your whole programme of study.
It is essential that students remember that they should:
Allow ample time before the submission deadline to upload your work to Microsoft OneDrive (we recommend that you allow at least two hours before the submission deadline). The time needed will depend on the size of your submission and the speed of your internet connection.
To avoid upload problems, it is recommended that you upload very large media files over a wired internet connection rather than Wi-Fi (Wireless).
Just uploading a file to your OneDrive area does not constitute a complete submission as instructors will not be able to access the file without the link. You need to complete the assignment submission process by submitting the link to Blackboard for the submission to be valid.
Any changes to your work will need to have been made prior to submitting the link to Blackboard. Changing your submission after submitting the link will invalidate your submission and possibly make it inaccessible to your lecturer.