Managing your correspondence and notifications in Blackboard Ultra
What is an announcement?
As lecturers you can add, edit, and delete important messages which will be displayed at course level.  These announcements can be set to appear in:
Announcements section of every course and organisation.
Emailed to users and displayed in the above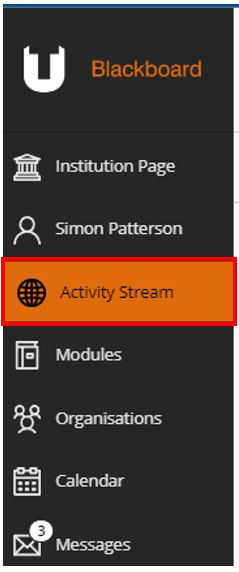 What is a notification?
Blackboard Ultra creates notifications for what is happening in users' courses, including new content, quizzes, and due dates for assignments.
On your activity stream's Notification Settings panel, you can choose which notifications you receive about activity in all your Ultra courses.  You can access the System Settings that control how your notifications behave, click the cog in the top right of the page.

There is also another way that you can also access these notification settings, this is via your user profile.
Click on your username in the main Blackboard menu.  Under System Settings there are several Global Notification Settings where you will be able to access the settings relating to the area of Blackboard Ultra.  They can also be access by clicking on the pencil icon to the right of the hypertext.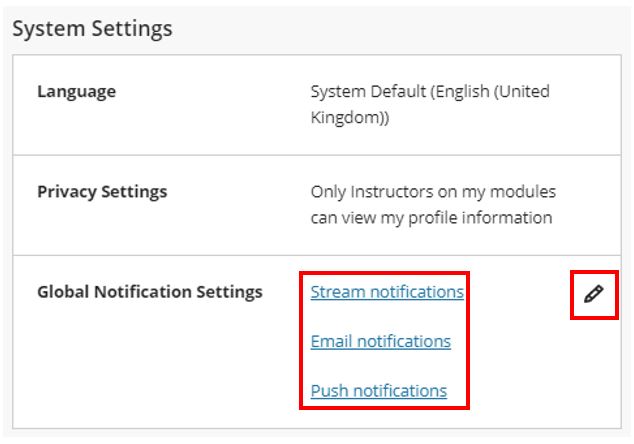 Notification Settings
Activity stream: In the Notification Settings, you will be able to control journal activities including:
When new journal entries are posted
When journal entries are modified
When journal entries are commented on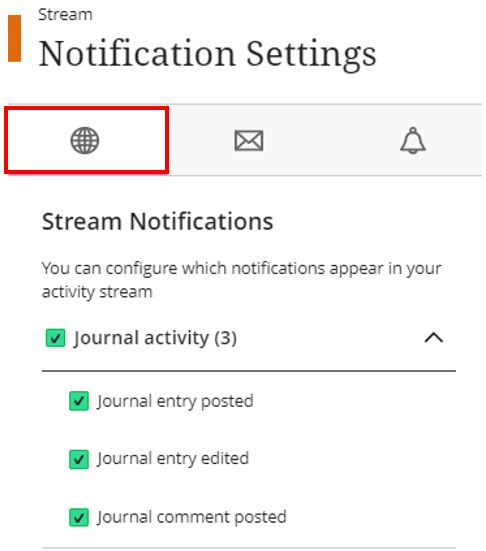 Email: In the Notification Settings, you will be able to control activities relating to e-mails including:
Instead of being sent an email notification every time an activity in Blackboard takes place. You can consolidate all these notification updates into a single daily email. This email is sent first thing in each morning to summarise all the notification updates from the previous day.
There are also several email notifications options that allow you to configure what Blackboard Ultra activities will trigger an email notification to be sent.  These include:
New items to be marked
New marks and feedback
New messages
New discussion messages
New content added
New and upcoming due dates
Overdue items
New modules available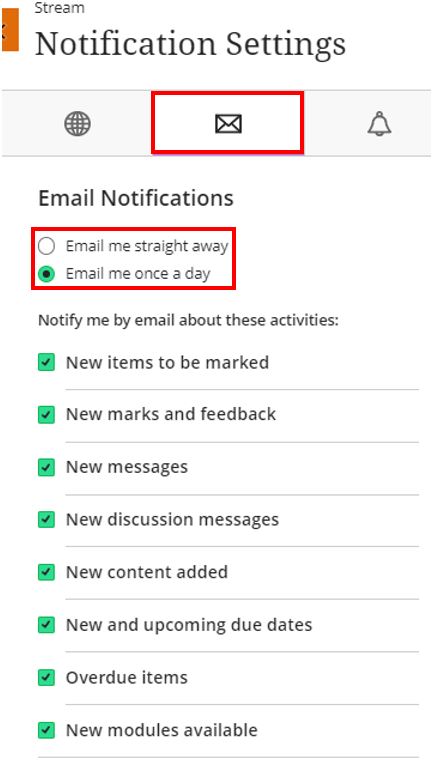 Push notifications: In the Notification Settings, you will be able to control what messages pop up on your mobile device if you have the Blackboard app for students installed. You can select which notifications are sent to your device including:
All new content and discussions that are created in Blackboard modules with which you are associated
New responses to discussions either from everyone associated with that discussion or just the instructor
All new marks and feedback that is posted
All new and any upcoming due dates for assignment content, by default this is set to remind users one day in advance however, there is the facility to alter this value.