Adobe Creative Cloud Express helps support and facilitate designing posters that can visually communicate your ideas and understanding.  You can simply and quickly create and share attention-grabbing graphics images transforming ideas and concepts into standout posters with a wide range of professionally designed templates and customization options.
A well-executed poster has the power to grab someone's attention while delivering an important message. Whether you're promoting an event, selling a product, or advertising a movie, your poster's quality is crucial to your venture's success. You can now create sleek and eye-catching posters from the comfort of your own home, using a Creative Cloud Express poster template as the basis for your design. Creative Cloud Express offers a range of poster templates and layouts that you can use to create your own custom posters.
Explore with more features.
Explore the menus to find more options for customizing your poster, such as applying filters to your background image and changing the colour palette.
Use these features to really let your creativity shine.
Creative Cloud Express automatically saves your poster designs, so you can come back and tweak them as much as you need.
Create movie posters, music posters, business posters, motivational posters, or anything else that captures your imagination.
To create a poster in Adobe Creative Cloud Express, use the following steps:
Open Creative Cloud Express on your desktop or mobile device (https://express.adobe.com/) to start creating your poster, you can decide to create from a blank canvas or explore thousands of poster template designs that have already been created.

By default, the poster template isn't listed on the homepage so click on the Create a New Project plus button and then when the new menu loads, click the View all option.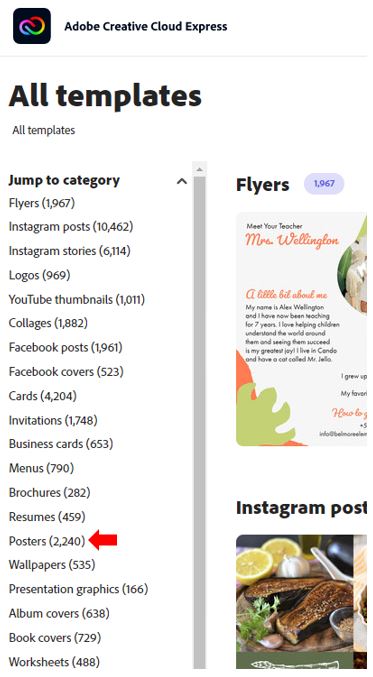 Located in alphabetical order you can click on the Posters template option.  At the time this guide was produced there were 2200+ poster templates available.
Once the poster templates page loads, all the available templates are split into various categories.
There is also a filter by topics option to help you further narrow your selection.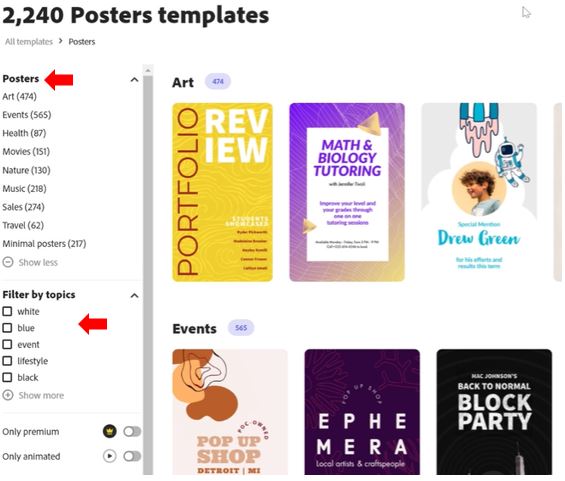 Once a template has been selected, it will be previewed on the page in a larger format to ensure you are happy with your selection.
If you decide that you do not want to select this template, you can either close the preview and select a different template or you can use the left and right navigation buttons to scroll through the other templates that are in the same category as the one you originally previewed.
Once you have selected the right template to use click the Create from this template button.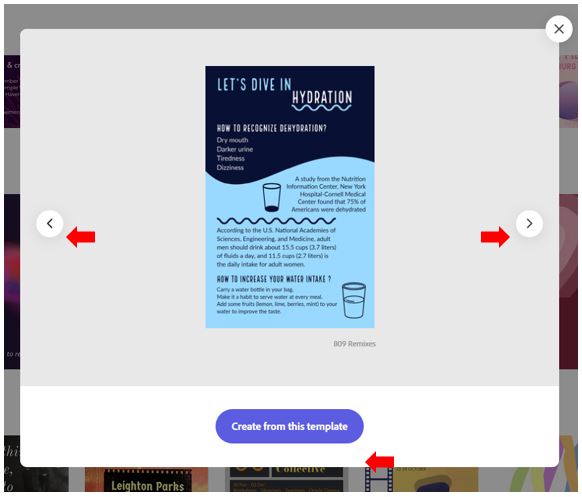 Your new template will now load into your Express workspace, there are various options that can be used to update and edit the style and content of the poster.  On the left-hand side of the screen, we can:
Access the previous template menu to select and change the template to be used for the poster.
Add pre-defined text styles and objects that include social, logo, Headlines, paragraphs, phrases, bios, events, quotes, lists, and education designs just to mention some. Under each heading there is also a More option to allow you to access more content for the specific text type.  We can also add our own text.
Add photos from a huge selection of pre-created Adobe stock (licensed from Adobe as part of the Creative Cloud membership) that are again split into categories with the More option as above with the Text categories. There is also a search option to allow you to look for a specific type of photo and you can also upload your own.
Add Icons from a selection of Adobe stock, there is also a search option to look for a specific type of icon. These again help to personalise your poster and enhance its look.
Add design assets, like photographs and again split into categories with a search option being made available. These can be quite useful when looking for overlays and texture assets.
Add a background to the poster with again content split into categories and a search feature.
There is also a section where you add your own logo to support the creation and use of your own or a pre-existing company brand.
Add a custom library, that includes items that you commonly use, this can help you save time when creating multiple posters that share some commonality.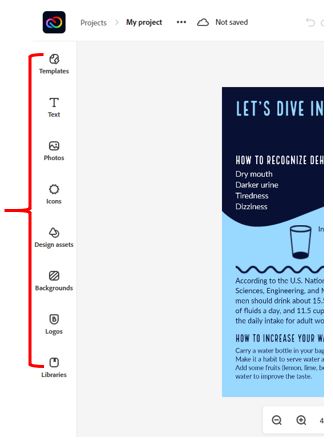 And on the left-hand side of the screen, we can:
The Colours button allows us to edit the overall colour theme for the poster, Adobe Express has several pre-defined colour schemes to choose from as well as allowing you to create and use your own. This is a good way of setting or identifying a corporate branding scheme.  However, you should consider how your choice of colour scheme can impact the accessibility of the poster.
Add animations allows a variety of different animations to be applied to the poster, this is especially useful is the poster is to be displayed in a digital format rather than a printed one.
Background styles allows us to modify the background of the poster such as altering the orientation of aspects of the images that make up the background.
The Design option allows you to apply different variations to the overall design of the poster, these will modify the overall look and feel of the content of the poster including the colour scheme, font size and style and background usage.
Once you have configured the visual aspects of the poster you can now personalise the actual content.  You can double click on any text currently on the poster and modify or replace it.  Depending the poster template you have chosen the ext being modified will be automatically resized to fir the current text box, text boxes can be re-sized to increase or decrease the size of the text they contain.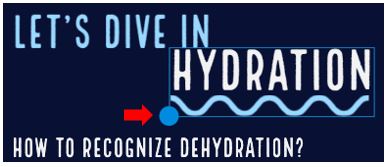 The Adobe templates that are included with Creative Express are all created in layers.  These can be seen and accessed from the bottom left corner of the screen.  There will also be a number associated with the layers that informs us as to how many layers the template being used includes.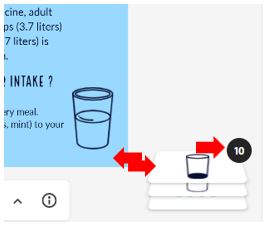 Using layers help to isolate different aspects of the poster design.  For example, by clicking on the layers, this will create an expanded view of each where you will be able to see what components are included on each.  By clicking on the layers in the current project, I can see that on the top two layers the two drinking glasses are available to be edited.  By selecting a single layer, it can be easier to interact with, edit and configure one specific element of the overall poster.  Each time you add a new piece of content to your poster this will be created on its own new layer.

To change the glass of water in question:
Click on the second layer and select the image of the glass half full of water.
Open on the Icons button in the left menu.
Use the search command to search for "Glass"
Select the desired search result
Click the Replace button
Any changes to your poster work will automatically be saved to your Above Creative Cloud storage space.

There are also the Undo & Redo options if you want to reverse a change you have made. These points are in the centre at the top of the screen.
You can invite others to work collaboratively on a poster project by clicking on the Invite button. This is a useful feature if working on a group project.
You can download your poster in a PNG, JPG or PDF format. This is a useful technique to allow you to submit work.
Once the poster is complete, it can be shared with other users by clicking on the Share button located in the top right-hand corner of the screen.

More videos on Creative Cloud Express can be found here: Creative Cloud Express – YouTube