Our Blackboard website will work on almost all reasonably modern PCs installed with fairly up to date operating system and software.
Your Web Browser
We have an automatic checker to see if your web browser is compatible with Blackboard. Click on the button below :
You will see a popup window with the results. If your PC needs updating, the checker will tell you what needs doing.
If you need further help, please contact the IT Service Desk (details at the bottom of this and every help page).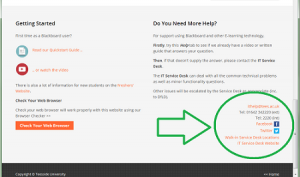 Software Packages
You will almost certainly need word processing / presentation / spreadsheet software as part of your studies.
We recommend Microsoft Office (i.e. Word, Powerpoint and Excel). Current students can obtain a free copy of Microsoft Office 365.
Find out how to get your free copy of Microsoft Office 365.
Other alternatives are available, such as LibreOffice (www.libreoffice.org).
The web browser checker will also allow you to test whether you have appropriate word processing software installed.