The Journal tool in Mahara can be used to record your thoughts, experiences and reflections. It is ideal for logging your learning journey and reflecting on your studies.
You may also find the Journal tool useful if you are on a work placement. You can use it to log your experiences and thus provide a way to stay in touch with your work placement supervisor at the University. The ability for others to comment on your journal entries means you can create a dialogue with your audience or obtain feedback from people such as supervisors.
By default, every user in Mahara is allocated one journal.
If you wish to have multiple journals, then you can enable this feature by going to Settings (top-right corner of the page) and selecting Enable multiple journals.
Adding Journal Entries
All of your journal entries are private until you put them into a page in your portfolio. Thus, the publishing of a journal / journal entry is a three-step process:
Write your entry and save it.
Add a journal block to one of your pages (you can add either an entire journal or just selected posts)
Share your page (see Sharing Pages and Collections).
To create a new journal entry:
Go to the Content menu and then select Journals.
If you have enabled multiple journals, then you will see each journal listed separately here. Click on the title of the journal in which you want to add a new entry and then click the New entry button. Otherwise, just click New entry.
Enter a Title for your entry and then type your entry in the text box provided. You can format your entry using the tools provided and also add media such as images.
Optionally add some tags to your entry. This will help you to find it more easily later. You can choose from tags you've already used or create new ones – just remember to separate each tag with a comma.
You can also add attachments by clicking the Add a file button.
If you want to leave your entry incomplete and return to finish it later, then switch the Draft button to Yes. When your entry is a draft, no-one except you can see it.
Comments are allowed on your journal entries by default. If you want to disable this option, then switch the Allow comments button to No.
Click Save entry when you have finished.
Adding a Journal / Journal Entry to a Page
In order for people to see your journal entries, you must add a journal (or a specific entry) to one of your pages.
On a page, in edit mode, click the Journals option from the content menu on the left.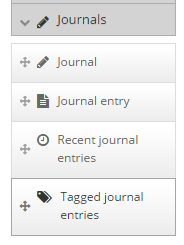 You have four options:
Journal – add an entire journal to your page.
Journal entry – add a specific journal entry to your page.
Recent journal entries – show the most recent entries from journals (you can choose how many entries are displayed and from which journals).
Tagged journal entries – Display entries with specific tags, if you have tagged your entries.
Choose the option which is most appropriate by either clicking on it or dragging and dropping to your desired location on the page.
You will then be asked to configure the block. The configuration options may vary depending on the option you selected. The screenshot below shows the configuration options for the full Journal – you can choose which journal to display and the number of entries per page (default is 5). You can also set block copy permissions which determines whether or not people can copy your journal to their own pages.