This user guide looks at how to access and contribute to blogs and journals. Both tools are a great way for you to reflect on your learning. They are also very good at serving as a tool to record your progress as your course moves on and allowing you to remember what you have done at the end of the course. This can be especially useful if you are expected to produce a report on your study.
What's The Difference?
Blogs (short for web-log) are public areas. Whatever you write can be seen by other students on your module.
Journals are private areas. Whatever you write is only visible to you and the module leaders.
Accessing Blogs and Journals
The location of blogs and journals within modules will differ depending on your tutor. If you are unsure, ask your tutor where the tool exists. Once you have located it within the module, click on the title to access it.
In the example shown, we can see that there are two blogs (Public Blog and Individual Blog) and one journal (called Private Journal). Notice the different icons – these can help you identify a blog or a journal. You will need to click on the title to access the tool.
In Blackboard, there are two types of blogs: Course Blogs and Individual Blogs.
Course Blog: All students can make posts in one area. You can see each other's posts and you can comment on each other's posts.
Individual Blog: You have your own blog where only you can make posts. However, other students can read what you post and they can usually comment on what you post.
Whether it is a Journal, Course Blog or an Individual Blog, they work in almost identical ways.
Making a Post
To make a post, go through the following steps (written as for a blog, but exactly the same for a journal):
Click on the Create Blog Entry button at the top of the page. 
The Create Blog Entry page will appear (as shown).
Give your post a Title.
Type the blog post in the large box labelled Entry Message.
You can modify the text using the various options in the text box editor. Hovering your mouse over these buttons will tell you what they do – make text bold, italic and so on. You can also add media such as images and videos, as well as content from service such as YouTube using the Mashups button. See the section titled "Embedding Images" later in this user guide.
If you don't want to keep your post, click on the Cancel button.
If you need to stop what you're doing but not lose your work, click on Save Entry as Draft. This will save your work and you can come back to it at a later date to finish.
When you've finished your post, click on the Post Entry button.
Attaching Documents
In your post you can attach documents such as images, Word documents, PowerPoints presentations and so on.
Locate the Blog Entry Files section when creating a post.
Navigate through your computer or USB pen drive etc to find the item you wish to attach to your blog post.
Once you have located your item, double-click on it.
The item will now appear in a list of items.
You can repeat this process if you need to attach more than one document to your blog post.
Embedding Images
In your post you can embed images so they appear directly in the post itself, rather than attach them as links.
In the text box editor, click on the Insert/Edit Image icon (circled).
In the new window that pops-up, click on Browse My Computer and locate your image.
Fill in the Image Description box and the Title box for your image.
If you wish to modify the appearance of the image (like change the size or change where it appears), click the Appearance tab to access controls and set the properties as appropriate.
When you are happy with your image properties, click Insert.
If you want to change the properties of the image after it has been inserted, simply click once on the image to select it and then click the Insert/Edit image icon again to display the properties. (You can also right-click on the image and select Image from the menu).
Commenting on Entries
You can comment on both blog and journal entries. As tutors can view your journal entries, they may also make comments.
Click the Comment button (located bottom right of the post you are commenting on).
Type your comments in the box that appears.
Click the abc icon if you wish to spell check your comment.
If the option is available, you can select for the comment to be Anonymous. Remember that if the blog is being assessed, your tutor will not be able to gauge your engagement with the blog if you make anonymous posts.
Click Add to submit your comment.
Navigating Blog Entries (not Journals)
A blog is public to all students on your module. The blog tool allows you to select individual students to read their posts. If the blog is an individual blog, your default navigation will look like the image below.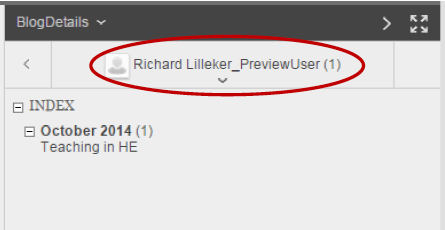 If the blog is a course blog, your navigation will look like this: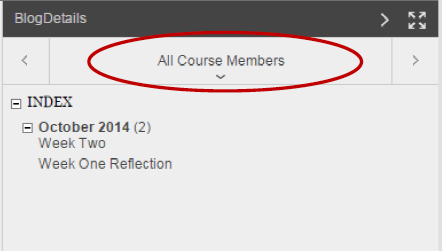 Either way, the process to see other blogs is the same.
To see other members' entries:
Click once on either your name (for Individual blogs) or All Course Members (Course blog).
A list of all students will appear.
The number in brackets after their name indicates the amount of posts they have made.
Select the student you want to read.
You can then view their posts by clicking on the title.