There are two ways of submitting an assignment in Blackboard.
Through a "normal" Blackboard assignment
Through the Turnitin Plagiarism Detection Software
This guide covers submitting a "normal" Blackboard assignment. There is a separate guide which explains how to submit a Turnitin assignment.
Where do I submit my work?
If you have been told by your lecturer to submit your work through Blackboard, then they should have also told you whereabouts within the Blackboard module to do it.
When an assignment becomes available within a module you will be sent an email
Sometimes lecturers will post an announcement telling you where to submit your work; sometimes they will email you; sometimes they will tell you in a lecturer/seminar/tutorial. Details may also be included in the module handbook.
If you are not sure, then it is worth looking in your Blackboard module. Most modules will have an area on the menu called Assessment (or something similar).
Inside this area you should find your assignment. You can normally identify an assignment by the following icon.

Your lecturer may have provided some instructions about submission and/or the assignment requirements. There may also be some assignment files attached which you can download and view simply by clicking on the link of the file.

How do I submit my work?
Submitting an assignment to Blackboard safely stores your completed work so that your lecturer can grade it and give you feedback.
The Assignment Information section will include important details such as the Due Date, Points Possible for the assignment and any Instructions.
Your lecturer may also provide a Rubric for the assignment. A Rubric is a marking criteria which can define what is required to achieve certain levels of merit. Click the View Rubric button underneath the Points Possible value to view the Rubric.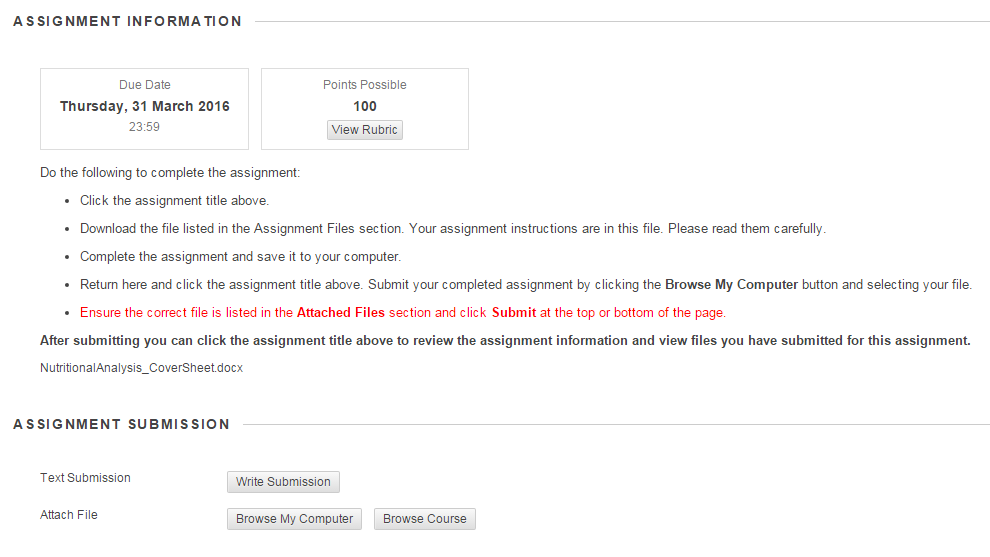 To begin the file submission process:
Navigate to the assignment in your Blackboard module and click on the title to view the assignment details.
In the Assignment Submission section, click on Browse My Computer to select the file from your computer that you want to submit. Please ensure that there are no special characters in the filename (£ $ € ; < > ! * & % @ # , etc).
Once you have selected your file it will appear in the Attached Files list. If you would like to attach multiple files, simply repeat step 2 above.
The Add Comments section allows you to leave a comment along with your submitted file(s) by typing into the Comments box. Your lecturer will see this when they come to view your submission.
To submit your assignment, click Submit at the top or bottom of the page. The Save as Draft button does not submit the assignment but saves your progress so that you can return to your assignment at a later time. It saves any text you have typed and files you have uploaded. Remember to click Submit when you have completely finished your assignment submission.
To begin the written submission process
You maybe asked to upload text or a link for you submission to do this:
Navigate to the assignment in your Blackboard module and click on the title to view the assignment details.
Clicking the Write Submission button provides you with a text box to type a submission or copy a link to file on your OneDrive account if you have been instructed to do so.
Add your content within the text box.
To submit your written assignment, click Submit at the top or bottom of the page.
You can practice submitting an assignment in the "
How to Submit My Assignment
" organisation in Blackboard. Go to the "How do I submit my work?" section to find the practice assignment.
How to Check Your Work Has Uploaded Successfully
After clicking Submit, the Review Submission History page will appear with a purple success message, confirming the assignment submission.  You will also receive an email confirming your assignment submission.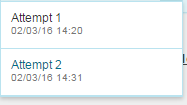 Depending on the file type, you will see a preview of your submitted file. The right-hand panel shows details of the assignment and your submission. If you've been allowed to submit multiple attempts, each attempt will be detailed here. You can click on an attempt in the drop down box to view it.
Any files you have submitted will be listed under the Submission section. You can view the files in the viewer by clicking on the filename or you can download them by clicking on the download button. If there is a problem accessing the files, then please inform your lecturer.
You can review your assignment submission at any time. Simply go to the assignment item through which you submitted your work and click on it to view the Review Submission History page.
You can also generate an email receipt for all your assignment submissions by clicking the Email Submission Receipt button. This will send you an email with details of all assignment submissions, for all modules, during the last 12 months and will include the assignment you have submitted.

Resubmitting an Assignment
There may be cases where you are allowed more than one attempt at an assignment, or you have been granted an extra attempt by your lecturer for a variety of reasons.


If you are allowed to submit more than once, you will see the Start New button on the Review Submission History page.
To submit another attempt:
Click the Start New button to return to the assignment submission page. Repeat the steps detailed further above to attach your assignment file(s) and click Submit when you have finished.
You will be returned to the Review Submission History page again where your new submission will be displayed.
You can view your past submission attempts by expanding the Attempt section and selecting the attempt you want to view.