Mahara lets you share your pages and collections with other users who have access to the system and also with external users. This means you can share your portfolio with fellow students, colleagues, tutor and potential employers if you wish. There are two ways that you can share pages and collections:
Access Rules – specify who can see your page, when they can see it and what they can do with it (e.g. do you want to allow them to copy it). This is a good option for sharing your page with people who are registered in the system.
Secret URL – Generate a secret URL which can be given out to people; only people with this URL can view your page. This option is useful for sharing with people who don't have accounts in the system and when you only want them to be able to view the page.
Applying Access Rules
You can apply access rules from the "Edit Access" page. This can be accessed in two ways:
Go to Portfolio and choose Shared by me from the menu.
When editing a page, click Share page.
Access rules control who has access to your page and when. By default, only you can see your page. You can share your pages and collections with the public, logged-in users, your institution(s), groups or your friends by selecting options from the drop down menu.
If a Page is in a Collection, then your access rules will apply to the entire collection. I.e. you cannot have separate access rules for a page if it belongs to a collection.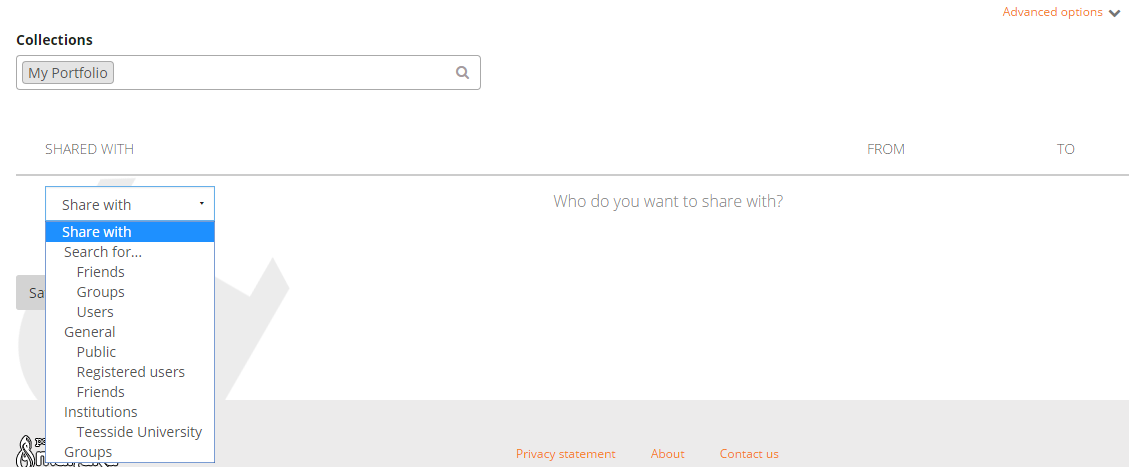 Access dates can be set, allowing you to make your page available for a specified period such as an academic year, a project timeline, or even for one day only. Each rule can have different access dates, if necessary, as shown below.

You may choose to share your page with potential employers, your academic tutors or your peers in order to showcase your work, or with a group of people who you are working with on a project so that you can use the page as a way of logging and measuring project progress.
Click on Advanced Options to specify more details about who can do what with your shared pages / collections. For example; you can permit others to comment on your pages or copy your pages if you wish.
Generating a Secret URL
You can also share your pages and collections with others by generating a secret URL which can be given out. Users with the secret URL will be able to access your page or collection without the need to login to the Mahara system. This is ideal for sharing your content with people who don't have a Mahara account but need to access your portfolio pages/collections. An example could be a potential employer with whom you want to share your content. To generate a secret URL:
Go to Portfolio and choose Shared by me on the menu.
Select either Collections or Pages, depending on what you want to share.
Find the page or collection that you want to generate a secret URL for and click the secret URL button. You can also see here how many secret URLs already exist for each page/collection.
Click the New secret URL button to generate a new secret URL for the page/collection.
A new secret URL will appear. You can apply date restrictions to the URL by clicking the Edit (pencil) button on the right-hand side and selecting the dates.
After generating your secret URL and applying date restrictions (if necessary) you can copy it to your computer's clipboard by clicking the Copy to Clipboard button to the left of the URL. You can also delete the URL by clicking the Delete button.