Notifications show you a summary of recent changes in courses and organisations, approaching deadlines, assessment information and upcoming tasks that needs to be completed.
You can find Blackboard Notifications in:
Notifications menu in your current modules (if made available by tutor)
The Notification Dashboard contains several modules that gives you information on your courses: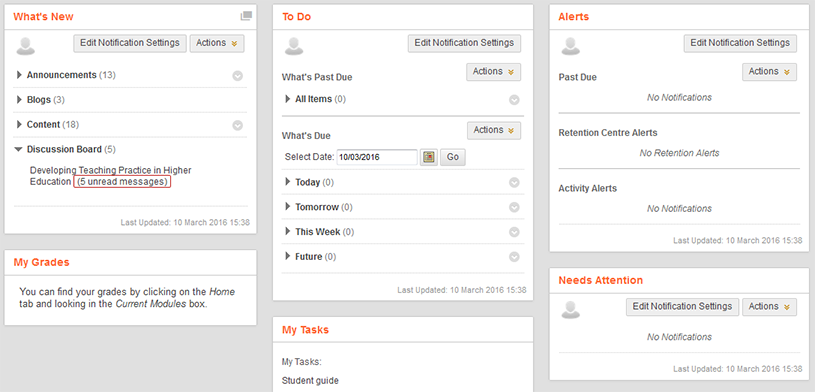 What's New – Recent updates and changes for example a new announcement, new content or unread blog post or discussion board message in your courses/organisations.
To Do – Lists what's due and past due of course work for your courses and organisations.
Alerts – Displays past due and early warning notifications for all your courses.
My Tasks –  Lists the tasks set by your instructor and you can create personal tasks and set a due date.
Needs Attention – Displays all items in your course that require some type of interaction.
Edit Notification Settings
You can manage the Notification Settings for all of the courses you from the Global Navigation menu under Settings or by clicking Edit Notification Settings button on modules under the Notification Dashboard.
You can manage Notification Settings in several ways: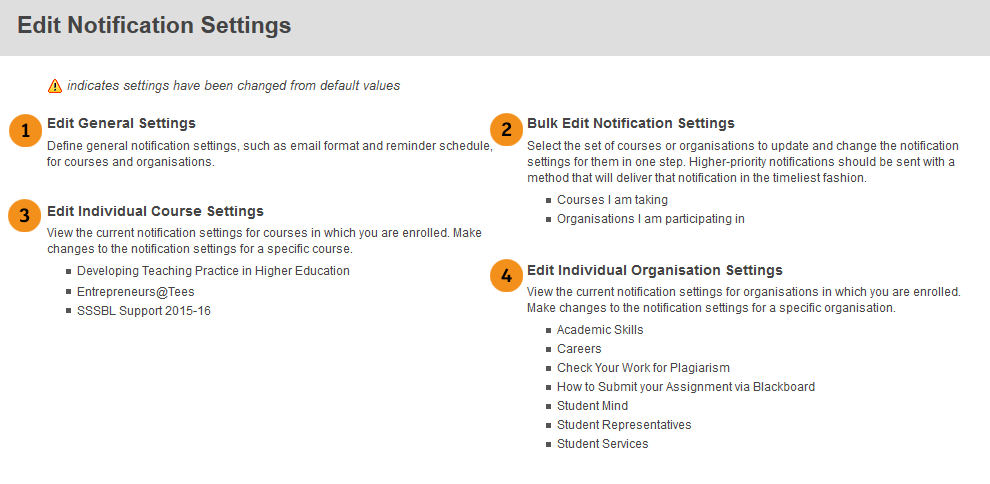 Edit General Settings
By default, you will receive Individual Messages for all your courses and organisations. You are also set to recieve a reminder 7 days before a due date. If you wish to change the number of days for courses or organisations, enter the new number in the text field in the Send Due-Date Reminder option then click the Submit button.

Bulk Edit Notification Settings
Use the Bulk Edit Notification Settings to apply notification changes to all or selected courses/organisation.  To change the notification settings for all of your courses click Courses I am Taking or for organisations click Organisations I am participating in. Ensure the All radio button is selected and scroll down to select the types of notifications that you would like to be sent via email.If you wish to apply the same settings for selected courses/organisations, click the Selected radio button, then select the item(s) from the list and use the arrow button to move the items to Selected Items area. By default, you will receive all notifications on your Notification Dashboard. Click Submit to confirm your selection.



Edit Individual Course Settings
To change notification settings for a single course, click the course link listed in the Edit Individual Course Settings section.  Under Settings, select items to be sent via email notification then click Submit.
Edit Individual Organisation Settings
Similar to Individual Course settings, to change notification settings for a single organisation, click the organisation link in the Edit Individual Organisation Settings section. Under Settings, select items to be sent via email notification then click Submit.