ReView is Teesside University's Educational Activity Capture service.  Lecturers may choose to use this service to provide students recording of lectures and other supplementary learning materials (video content) in your modules. Generally, lecture recordings will focus on capturing the tutor's voice, slide presentation and/or projector screen.
REMINDER: The lecture capture service is aimed at enhancing and enriching students' learning experience and must be treated as an additional learning resource and not as a replacement for attending classes/lectures. 
This guide explains how you can access ReView recordings within your module and how to use the ReView player.
Accessing the Recordings
Recordings will be available in your Blackboard module within a Content Item as a video player or a video link.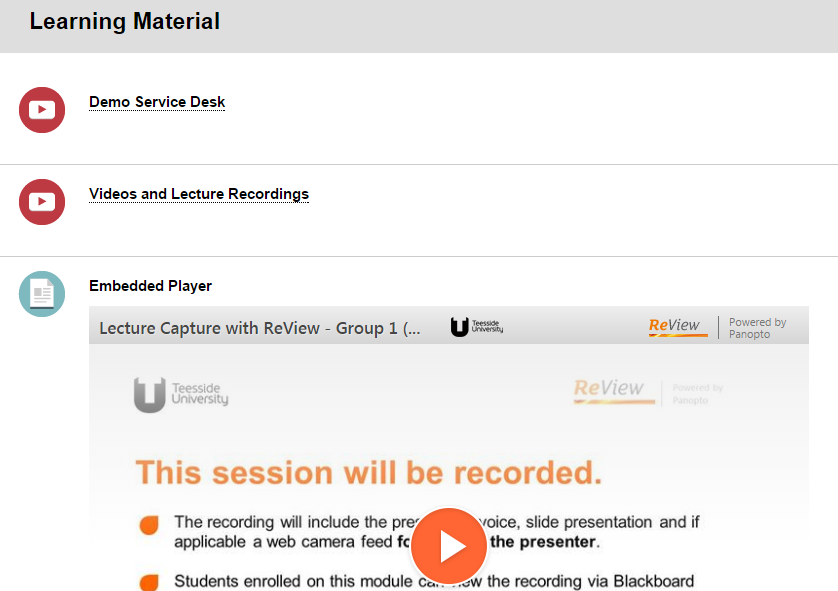 Your lecturer may also choose to provide you the direct link to the library of videos available in the module.
ReView Player and Features
Click the video link to launch the ReView Player.

This will open the player in a new window.

The playback controls are along the bottom of the video.

Play / Pause
Rewind 10 seconds
Timeline
Volume (click M to mute)
Play speed
Switch between different captures (i.e. PowerPoint slide ans screen)
Show/Hide thumbnail navigation

Clicking the slide/screen thumbnail will take you to the corresponding section of the video.
Zoom or view full screen to focus on the projector screen or the writing on the white board by clicking the Full Screen icon on the top of right corner within view ports.
Contents, Notes, Bookmarks and Discussion
You can search for specific key words across PowerPoint slides, screen, lecturer's voice, notes, bookmarks and discussions within the recording. Type in the search box and press enter or click the magnifying glass icon.  Click on the search result to jump to that part of the recording. Use the filters (i.e. Search All / Sort) to further refine your result.
Embedded Player to Full ReView Player
You can watch the videos embedded in a content item in your module by clicking play. If you wish to watch the video in the ReView player to benefit the features discussed above, click the icon on the top right. This will open the ReView player in a new window.