This Guide explains how to interpret your originality report once you have opened it in the 'Check Assignment! 'area of the Academic Skills organisation on E@T.
What is the Originality Report?
An Originality Report is an indication of similarities between your submitted work and a database of previously submitted assignments, websites and other sources. If a match between a submitted assignment and another work is found, Turnitin will highlight the matching text and provide a summary and link to the matching source in something called Originality Report. The originality report is a copy of your work overlaid with highlighted matches. Remember not all resources are checked by Turnitin, tutors may still identify sources that Turnitin does not.
Originality reports provide an opportunity for you to reflect on the quality of your academic writing
The originality report will give you the opportunity to correct any referencing, quotation and paraphrasing problems before submitting a final assignment. It is likely that your originality report will contain some matches as you will be discussing the work of others. If your assignment does not contain any matches this could indicate that you have not done enough reading and referencing of other sources! If your assignment is a reflective and highly personal piece of work it should have a low percentage of matching text. Therefore all originality reports need careful interpretation depending on the assignment requirements and sources used.
The originality report is NOT a plagiarism report
The matching text found is not an assessment of whether your work has or has not been plagiarised. The decision to deem any work plagiarised will be made only after careful examination of both the submitted paper and identified sources. Only you can see the work you submit to the Academic Skills area, your tutors cannot see it. You can start interpreting your report by identifying the sources of matching found.
The Overall Similarity Index
The amount of text found in your work with matching sources, are calculated into something Turnitin calls the 'Overall Similarity Index' percentage. The possible similarity indices are:
Similarity indices
No matching words
1 word – 24% matching text
25% – 49% matching text
50% – 74% matching text
75% – 100% matching text
Next you need to consider the originality report in more detail and look beyond the percentage of the Overall Similarity Index which only indicates the percentage of matches to other sources not necessarily plagiarism.
What percentages are safe?
There are no clear cut rules for this as all work will probably contain some words from other sources. As a guide a returned percentage of below 15% would probably indicate that plagiarism has not occurred. However, if the matching text is one continuous block this could still be considered plagiarism. A high percentage would probably be anything over 25% (Yellow, orange or red). Again this will depend on your work and the requirements of the report or essay.
Originality Reports can provide an opportunity for you to reflect on the quality of your academic writing. You should check any matches you find by reading through the matched text and consider the following:
Quotation and Referencing
If the matching source is a quotation ensure it is enclosed in quotation marks and correctly referenced. Since Turnitin will highlight any text it finds to match other sources including references and quotations, you will need to filter these out.
Click on the filter button

 (bottom, right), then click Exclude Quotes and/or Exclude Bibliography and then 'Apply Changes' to gain a more accurate originality report percentage.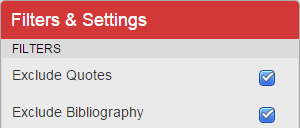 Paraphrasing
If after checking your quotations you still have large portions of text highlighted (approximately 5 words or more) or a series of small fragments close together, the highlighted text could be poorly paraphrased and considered plagiarism. If your assignment has required you to use specific sources of information care needs to be taken for you to re-word the work of others and use references. Good paraphrasing should clarify the meaning of the original source within the context of your assignment requirements. If you really feel that you cannot paraphrase the sentence consider using a quotation instead but do this sparingly. After re-writing the text, resubmit to Turnitin before handing in your finial work, remember poor paraphrasing could be considered as plagiarism.
Common words and phrases
Commonly used jargon and terminology may be matched by the Turnitin system, this is normal and should be taken in to account when viewing the Originality Report. You can exclude Turnitin from showing small matches of text in the 'Filters & Settings' area.

Reusing your work
Work previously submitted via a Turnitin assignment within a module will be added to the Turnitin database and will be matched in any future Originality Report on the Academic Skills site. Check your school policy on plagiarism, most schools do not consider reusing work to be good practice.
Viewing highlighted sources in detail
Begin by exploring the document and scrolling down the text to view any highlighted matches, you are able to view the original source from both an 'internet source' and a 'publication'. To do so click on the number next to the highlighted text this will open up a pop up window with a summary of the matching text source. To view a full source click on 'Full Source View'. This will open in the area to the right, close it when you are finished.

If you wish to follow the sources of a match in more detail go to the 'Match Overview' to the right of the originality report. Hover the cursor over the resource you want to view and click on the arrow to 'View Match Breakdown', this will show you every source found by Turnitin for that particular text match.
Save and print Originality Reports
Open the Originality Report then click on the 'Print/Download' icon located at the bottom left of the originality report.
Select to 'Download PDF of current view for printing'.
The Academic Skills site can only keep one Originality Report when further work is submitted it will be overwritten. You may want to save their report before overwriting it with another, but can also submit a previously submitted assignment again.
Summary of the Originality Report checking process
Change the Originality report settings
| | | | | | |
| --- | --- | --- | --- | --- | --- |
| Exclude Quoted | ⇒ | Exclude Bibliography | ⇒ | Exclude small matches | ⇒ |
Change your work
"Check your Quotes"
(and referencing)

⇒

Paraphrase
Re-word your work

⇒

Resubmit to turnitin

⇒
Where Next?
The Academic Skills organisation on E@T contains easy access to many essential resources for helping you with your study skills needs. To view your school guidance on referencing check the 'School Guides' area on the Academic Skills site. If you have re-worked your assignment and you are still concerned about your originality report speak to your tutor.
Contact the Learning Hub for an appointment for help with your academic writing skills.
If you have plagiarism concerns you can visit the Students Union's Advice Centre.