This guide high lights two of the ways you can see your grades and or feedback in Blackboard.
It's worth noting that the grades you see in Blackboard are
unratified
 results.  To see your
unatified
results please go to
e-Vision.
From Within Modules
Each module in Blackboard should have a link on the menu that takes you to your grades/feedback for that module.  The name of this link differs in each School – click below to see what it is called in your School.
My Grades
My Grades
Assessment & Feedback
Results and Feedback
My Grades
The School have their own system for grades and feedback.  It is accessible from the My Grades link.
All the above links (with the exception of the School of Health & Social Care) will take you to a page that shows you your Grades, Submissions and Tutor Comment/Feedback if there is any.

From the Blackboard Home Tab
You can also access your unratified grades/feedback for a module by clicking the Show my grades for this module link underneath the module name in the Current Modules area.
Here you can see work you have submitted and associated grades (the icon in the image below indicates that this piece of work is waiting to be marked).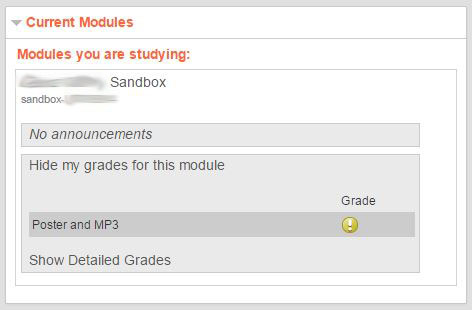 When your work has been marked the icon will disappear and be replaced by the appropriate grade.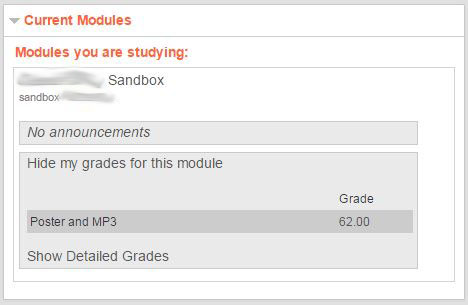 If you wish to view more information about your submission(s), including any associated feedback, you can click Show Detailed Grades.  You will be presented with a screen resembling the following:
Remember the grades you see in Blackboard are 
unratified
 results.  To see your
ratified r
esults you have to go to
e-Vision.