What is Mahara?
Mahara is Teesside University's electronic portfolio (e-portfolio) system.
An e-portfolio can be used to document your personal, professional and academic journey.
Mahara allows you to collect evidence by creating collections of pages to form your e-portfolio. Pages can include blogs, audio, video, presentations, files and much more. These pieces of evidence are referred to as artefacts.
You can create as many pages as you like; each once can contain a different number of artefacts and have a different intended purpose and audience. A single page or a collection of pages can make up your e-portfolio.
The ability to share your content with others means you can use Mahara to showcase your skills and achievements. You control which items and what information within your portfolio other users see.
Accessing & Navigating Mahara
You can access Mahara here. You can login to Mahara using your normal University username and password.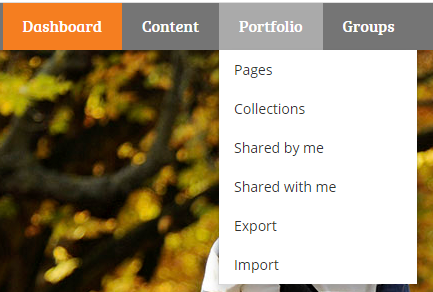 After logging into Mahara you will land on your Dashboard. This page provides a brief description of the system and a video to help you understand how the system works.
The main navigation menu is located across the top of the page, as shown.
Further down the page you will see links to various parts of the system, as well as a list of "Latest Pages", "My Pages" and any messages you have received through Mahara in your "Inbox".
The "Latest Pages" section will contain pages created by others which have been made publically available in the system.
"My Pages" contains a list of pages you have created.
Three Simple Steps to Mahara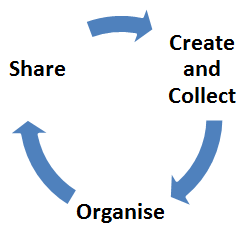 1. Create and Collect
Populate your profile by adding information about yourself, such as your name, contact information and an avatar.
Create your artefacts in Mahara – upload files including images, audio and video files, create a resumé, publish a journal, or add text such as a commentary or instructions. All of these items are artefacts and can be used to populate the pages in your e-portfolio.
You should click on the Content tab to add information and artefacts.
See Adding Content in Mahara
2. Organise
Start organising your content to build up your e-portfolio. Organise artefacts into pages – each page should have an intended audience and/or purpose.
After creating pages, you can create collections, which are groups of pages that are linked.
See Creating Pages and Collections in Mahara
3. Share
Choose who you want to share your e-portfolio pages/collections with. Add access rules to determine who can see each of your pages, or generate secret URLs. Share them with groups of users or specific individuals.
See Sharing Your Mahara Pages & Collections
The workflow below further illustrates the basic concepts of Mahara and how you can get started with creating an e-portfolio.