Pages and Collections are used to create your e-portfolio. You create pages and collections in the Portfolio section. It is then possible to share these pages and collections with others or keep them to yourself.
A Page contains a selection of artefacts which were added in the Content section. You can re-use the artefacts that you collected under Content in as many pages as you wish.
A Collection is simply a set of pages which are linked to one another and have the same access permissions.
Creating a Page
Go to Portfolio and select Pages from the menu.

To create a new page from scratch, click the Create Page button. Alternatively, you can copy an existing page to use as a basis for your page by clicking the Copy a page button. You can choose one of your own pages or one from another user. Use the Search facility provided to search through pages.
If you're creating a new page, enter a Page Title and an optional Description. The Description can be used to summarise your objectives for the page and will appear at the top of the page.
Optionally enter some Tags for your page. Separate tags using commas. Click Show my tags to choose from any existing tags you have entered. You can re-use tags throughout your Mahara to identify common themes.
Name display format lets you choose how your name will be displayed on the page.
Click Save.
You will then be taken to the Edit Content page. This allows you to add content to your page simply by dragging and dropping content blocks from the options available on the left-hand side. This includes:
Files, images and videos
Journal posts
Lists and text notes
Profile
Curriculum Vitae (Resume) details
External Content such as RSS Feeds, YouTube Videos, Twitter Feeds and Digital Badges
Choose the content block you want to add from the menu on the left-hand side, then drag it into the page.Alternatively, you can click on a content block and you will be asked whereabouts on the page you want it to be positioned.
You can drag blocks around your page layout to position them. The content of blocks can be shown on a page immediately, or just the heading of the block can be displayed. The retractable blocks allow you to be more flexible in what you want to show immediately on a page and gives others the ability to expand and contract them freely to view the content.
After adding a block to your page, you will be asked to configure it in the panel on the right-hand side of the screen. The options which appear here will vary depending on the type of content block. Click Save when you have finished configuring the block.
You can edit blocks on your page and remove them by clicking the buttons in the top-right corner of each block.
Changing the Layout of Your Page
You can change the layout of your page by clicking on the Edit layout button and selecting your layout. There are Basic Options, Advanced Options and the option to create a custom layout. Click Save at the bottom of the page when you have chosen your layout.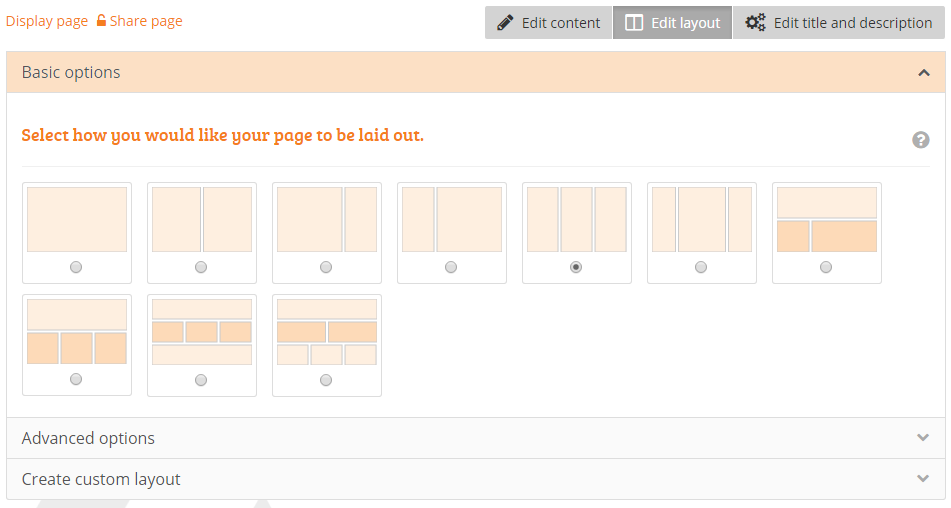 Viewing Your Page
You can view your page as it will be seen by others at any time by clicking the Display page button. This takes you out of edit mode.

Simply click the Edit this page button at anytime to return to editing your page.
For details on how to share your page with others, see Sharing Pages & Collections in Mahara.