What is Ally?
Ally is part of Blackboard. It is part of our ongoing commitment to improving the accessibility and usefulness of our learning materials for all students.
Blackboard contains many files uploaded by teaching staff as part of your learning. Ally allows you to access these files in a variety of different formats, some perhaps more convenient to you than the original.
For example, if you prefer listening to reading, Word documents uploaded by your module leader can be downloaded as an mp3 audio file.
The current options for alternative formats are:
Audio – An MP3 version for listening to, like podcasts.
ePub – For reading as an e-book on an iPad or Kindle
Electronic Braille – BRF version for use with electronic braille displays
BeeLine Reader – Enhanced text version for easier and faster on-screen reading
Tagged PDF – Structured PDF for improved use with assistive technology.
HTML – For viewing in a web browser and on mobile devices
Translated Version – A machine translated version of the original document into different languages.
Where does it appear?
Ally is part of Blackboard.
Any document displaying the Ally Icon
can be downloaded in alternative ways.
Not all content can be transformed into alternative formats. For example, spreadsheets cannot currently be converted.
How does it work?
When you click the Ally icon
, it displays a list of formats the item can be downloaded into: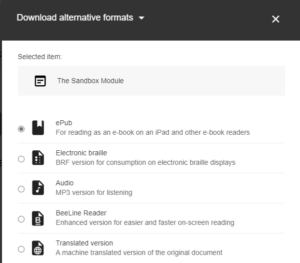 Select a format and click Download. Your alternative format file will download onto your device.
If you are the first person to request a particular document, it may take a few moments to complete, although subsequent downloads will be much quicker.