The Content tab holds all of the artefacts that you can create or upload for use in your portfolio. It lets you add information to your Mahara profile, build a CV, upload files, create journal entries and much more. All information and files you provide here are initially only visible to you, until you start to add the content to pages and share them with others.
Hover your mouse over Content on the menu. You will notice a menu appears with several options: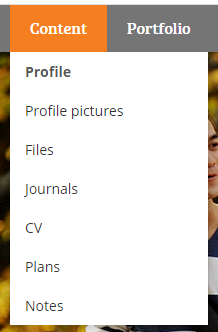 Profile – add personal and contact information. Enter the details into the fields provided and click Save Profile to save your changes. You can also add Social Media accounts here, such as Facebook, Twitter and Instagram.
Profile Pictures – upload a profile picture. You may upload up to five profile pictures here and choose one to be displayed as your default picture at any one time.
Files – Upload your images, documents or other files for inclusion in pages. You could upload samples of work you have produced or a curriculum vitae. You can edit and remove files using the buttons provided next to each file. Any files added here can be selected in various content blocks when creating your pages.
Journals – post a journal entry. By default, you are given a single journal in Mahara. You can enable multiple journals by going to the Settings page (top-right corner of the page). Simply click New entry to create a new journal entry. Journal entries can be added to pages; you can add an entire journal, selected entries or entries with a certain tag.
CV – build a CV (curriculum vitae) using the pre-defined sections. You can add a Cover Letter, Education and Employment information, Achievements, Goals, Skills and Interests. Each of these sections can be added individually to pages as required. You can also upload a CV as a file in the Files section.
Plans – Plans are simply to-do lists. They are particularly well-suited to plan medium and long-term endeavours. A plan can consist of a number of individual activities with which completion dates are associated. Simply click New plan to create a new plan and enter the details. You can add your plans to pages.
Notes – this section displays any notes that you have created inside "HTML" blocks on your pages. You can't add anything to this section; it's purely for viewing any text notes you've created within the system. You can re-use these pieces of text in multiple pages without having to copy the entire page.
Tip
: You can click the Help
 button wherever it appears in Mahara for additional contextual help about the system.