The Student Preview mode in Blackboard allows you to view and interact with your modules exactly as students do. You can perform actions such as:
Submit assignments
Take tests
Create blog and discussion board posts
Create journal entries
Test behaviours such as those which control the availability of content or require a particular interaction from the student to be triggered (such as Adaptive Release rules)
Note: Student Preview mode is different from using Edit Mode in the OFF state. Switching Edit Mode OFF simply hides editing controls but still displays content which would normally be hidden from students (e.g. content with adaptive release rules applied).
Entering Student Preview Mode
To enter Student Preview mode, click the Enter Student Preview function at the top-right corner of your module (near the Change Course Theme and Edit Mode buttons). 


When you enter Student Preview mode, a new student account is created in your module and the student preview bar appears at the top of every page. The bar displays the text "Student Preview mode is ON" and has Settings and Exit Preview buttons.
Click Settings to specify what happens to the account and associated data when you exit Student Preview mode. Click Exit Preview to return to the module as a module leader.

The username given to your student preview account is your username appended with "_previewuser". The Last Name of the account is your actual last name appended with "_PreviewUser".
For example; if your name is Joe Bloggs and your username is u0024510:
Username:       u0024510_previewuser
Last Name:      Bloggs_PreviewUser
This is how you can identify your preview account throughout the module. It is visible to all students enrolled on the module.
Deleting / Keeping Student Preview User Account & Data
When you exit Student Preview mode, you are prompted to either keep or delete the preview user and all its associated data.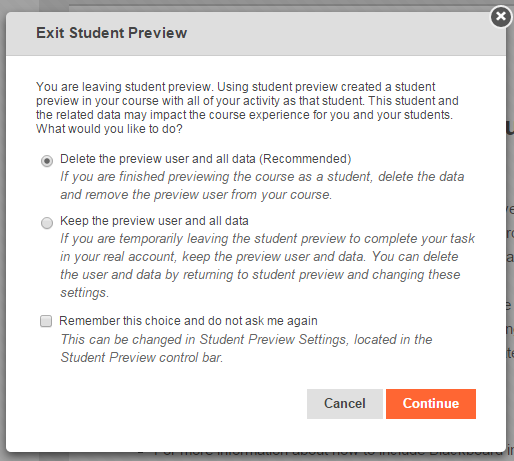 It is considered best practice to remove the preview user and its associated data. By opting to delete the preview user and data, all activity conducted as the preview user will be removed from the course permanently. This includes test attempts, assignment submissions, grades and discussion posts.
You might however, wish to keep the preview user and data if you want to see how student activity presents itself to you as a module leader, such as assignment submissions. For example; you might wish to enter Student Preview mode, submit an assignment and then exit Student Preview mode to grade the assignment in the Grade Centre. You could then return to Student Preview mode to view the feedback you provided for the assignment.
If you keep the data, the dot in the middle of the Enter Student Preview function icon turns green , indicating the preview user account is available for use.