The university's old Blackboard site (eat.tees.ac.uk) will be turned off at the end of the summer, 30 September 2022.
Apart from a very small number of modules running to completion, our old Blackboard site hasn't been used for active teaching since August 2021.
After September, all learning materials, content, assignment submissions and marks on old Blackboard will become inaccessible. Additionally, any ReView videos uploaded to modules on old Blackboard will stop working. From October onwards, Blackboard Ultra will be the only "Blackboard" supported by the university.
If you would like to keep any of your old content, now is the time to take action!
Please only keep content you (may) need for your own learning and teaching purposes. This could include files or videos you have uploaded to old Blackboard, web pages you have created on the site, perhaps student assignment submissions which are particularly relevant examples of good practice, or videos you have uploaded to ReView through old Blackboard (and have not yet transferred to ReView through Blackboard Ultra).
Content to keep may also include learning materials created by colleagues who have since left the university, but for whose modules you are now responsible.
If you are responsible for modules which may need to be kept for (say) professional course accreditation purposes, please contact your School Admin Team to discuss how this will be managed in a way appropriate to your course.
The following instructions assume that you are using the Chrome web browser. Other web browsers will also work, but the text and images that you see may be different.
Files
You may wish to download files you have used for teaching. These might include; word documents, powerpoints, PDFs or videos that have been uploaded directly into Blackboard.
To download a single file, simply right-click on the name of the file and select Save link as…. You will see a standard "file download" box allowing you to choose where to save the file.
Depending on how the file was uploaded, it will look something like this:

or like this: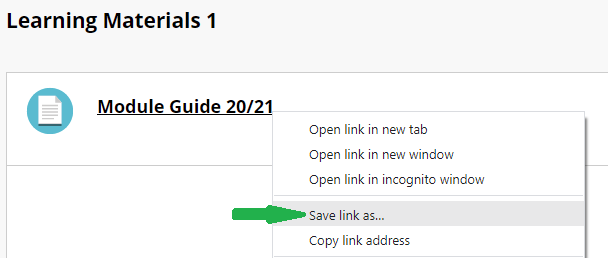 If you would like to download lots of files, then go to the module Control Panel, click on Files to expand the options, and then click on the module code: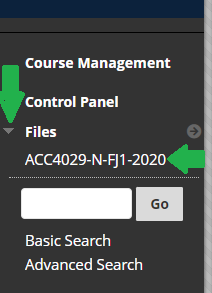 You will then see the file management page. Tick the boxes next to the files/folders you want to download, and then click on Download Package: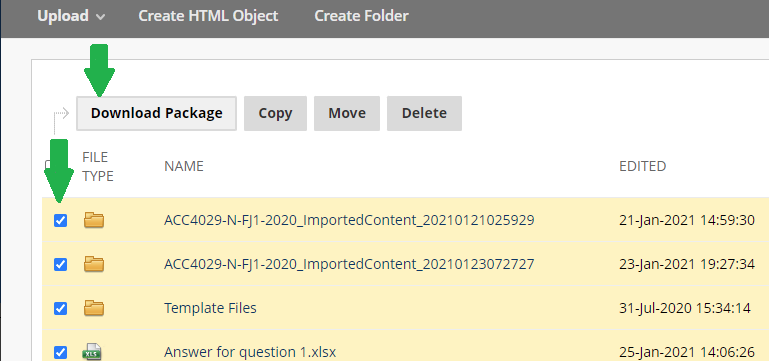 This will create a single zip file containing your selected files/folders which you will be prompted to save to your computer.
WARNING!
If you select many files, or if your files are particularly large, it can take up to 30 minutes to create a zip file. If things seem to be taking a long time, please don't start the process again, as this has the effect of making it run slower.
If nothing happens after 30 minutes, please try again, but downloading your files in several chunks, only selecting a few files at a time for each download.
ReView Videos
Videos that have been uploaded to the ReView Video Library in your old Blackboard modules will stop working once we turn off old Blackboard.
This includes videos that have originally been uploaded to modules on old Blackboard, which have then had their permissions altered manually to make them appear in modules in Blackboard Ultra.
We have a separate guide which outlines how to download videos from old Blackboard and then, optionally, re-upload them into modules on Blackboard Ultra.
Tests
Multiple choice Tests (for example) will often have taken colleagues considerable time to create. It is possible to download Tests from old Blackboard and import them into Blackboard Ultra, vastly simplifying the re-creation process.
We have produced a guide explaining this in more detail.
Student Assignment Submissions and Lecturer Feedback
In the vast majority of cases, we do not recommend colleagues download student assignment submissions or feedback, as this could create General Data Protection Regulation (GDPR) issues. GDPR is the data protection legislation to which all individuals and organisations, such as Teesside University, must adhere.
Students will be receiving information on how they can download and keep their own assignment submissions and feedback, as well as other materials from our old Blackboard site.
Again, if you are responsible for modules which may need to have assignments kept for (say) professional course accreditation purposes, please contact your School Admin Team to discuss how this will be managed in a way appropriate to your course.
One scenario however, in which you may want to consider downloading a student assignment for yourself would be if you wanted to keep examples of particularly good work for future reference and teaching.
Student Marks
Since the vast majority of active teaching on our old Blackboard site finished in August 2021, we make the assumption that all marks will have been transferred to SITS / e-Vision by the time the site is closed.