Mashups provide a very quick and easy way to add rich content into your module from external sources. You can get photos from Flickr, presentations from SlideShare and videos from both YouTube and Vimeo. Content from the Teesside's Helix Media Server is also added via a mashup tool. A mashup item can be added as a standalone item or added to a normal content item alongside other content to give the page a more visual appearance. The mashup tool eliminates the need for you to copy and paste embed code or worry about whether the content can be legally used – most of the hard work is done for you – all you need to do is search for the content and choose how you want it to be displayed.
Tip: You can add mashup elements pretty much anyway that the Visual Text Box Editor (VTBE) is used in Blackboard. This includes, for example, test questions. This can help you to make a text based quiz look much more attractive by adding mashup elements such as images and videos to both questions and answers.
This guide explains how to use the Vimeo mashup tool.
Adding a Vimeo Video
Vimeo is a video sharing platform which is very similar to YouTube. It allows you to upload your own videos and ensures compatibility on a wide range of devices and platforms. You can also search for videos uploaded by others and use them in your modules if the content is useful (remember to be aware of copyright issues).
Go to the content area in your module in which you want to add the Vimeo video.
Select Build Content and then click Vimeo Video from the Mashups section.
Enter a search term in the Search box. There are a number of options you can use to tailor your search; choose to search videos based on Relevance, age (Newest/Oldest), Most Played, Most Commented or Most Liked.
Click Go. A list of search results will be displayed.

Click on Preview underneath the thumbnail image of a video to watch it. When you have found a video you want to use, click Select.
On the Create Mash-up Item page, the Name will automatically be pre-populated with the name of the video (this can be changed if necessary). Optionally enter a Description for the video – this can be used to provide more context to students.
In the Mash-up Options section, choose how you would like the video to be displayed. Thumbnail will show as a full sized video player when the thumbnail is clicked. Text Link with Player will show a link titled "Watch Video" which shows the video when clicked. Embed Video will show the player directly on the page. Select whether or not you want to include the Vimeo URL and additional Vimeo information (duration, date added, owner etc.).
The Standard Options section lets you specify usual content availability settings such as date and time restrictions.
Click Preview to see what your content will look like or simply click Submit to finish.
Adding a Vimeo Video in the VTBE
As mentioned earlier in this guide, you can also add mashup content in the Visual Text Box Editor (VTBE). Whenever you see the VTBE, look for the "Mashups" button. Click on the button to reveal a list of available mash-ups and then click Vimeo Video.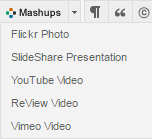 A pop-up window will appear, allowing you to search for a video. Simply follow the process as described above. The video will be automatically placed in the VTBE. You also have the option of entering additional content around the video.
Related Guides
The following guides look at other Mashups available on Blackboard.