This guide explains the functionality of folder structure in ReView and how it can be used to manage rollovers and reuse video resources across cohorts and other modules.  This guide will also provide tips on how to best manage and organise your sub folders within your ReView Video Library.
Folder Structure Explained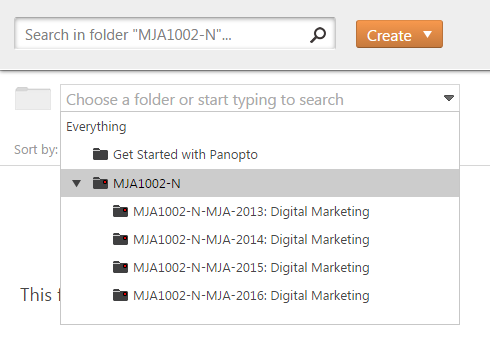 When a module is configured in ReView, it will be grouped under a top level folder of the same module code (visible in the drop down menu).  Video resources saved in the top level folder can be shared and viewed by all cohorts within the module, whereas the recordings in the a module instance is specific to a cohort.
The top level folder in the screen shot on the right is MJA1002-N and the module instances (i.e. MJA1002-N-MJA-2013: Digital Marketing, MJA1002-N-MJA-2014: Digital Marketing, MJA1002-N-MJA-2015: Digital Marketing and so on ) are grouped under this top level folder.
If you wish to share, for example, a screencast with students from the 2015 and 2016 cohorts, move the video to the top level folder and embed the video in the relevant module instances.
By doing this:
links to video resources are up-to-date when a module is rolled over or when you course copy for the following cohort and;
you can reuse and manage video resources more efficiently and avoid duplication
Or, you can choose to save recordings that are relevant to a specific cohort in the module instance.
PLEASE NOTE:
Only modules that have been configured with ReView will be added into the folder structure.
ReView inherits user permissions from Blackboard.  So please be mindful of where you save, share and embed your resource to ensure the right cohort has access to view the recording.
You may also notice, you can view modules that you are assigned as a module leader in Blackboard but don't necessarily teach. Be careful not to delete or move content from these modules.
The top level folder can only be accessed from ReView interface within Blackboard or the ReView website.
Sharing resources in other modules
To share video resources in other modules (different module codes), make a copy of the video and save it in the module's top level folder or instance.
As an example, to use a recording in both MJA1002-N and MJA1003-N modules, copy the video over to the top level folder or the module instance.
Find out more about copying/moving recordings from one module folder to another.
Organising your video resources
Using sub folders
You can further organise your video recordings into sub folders within your ReView Video Library. Content can be categorised by week, session or content type (i.e. feedback, screencast).
To create a sub folder, click the Create drop down and select New Folder. In the Create Folder pop up, give a folder name and click Create Folder.
Naming conventions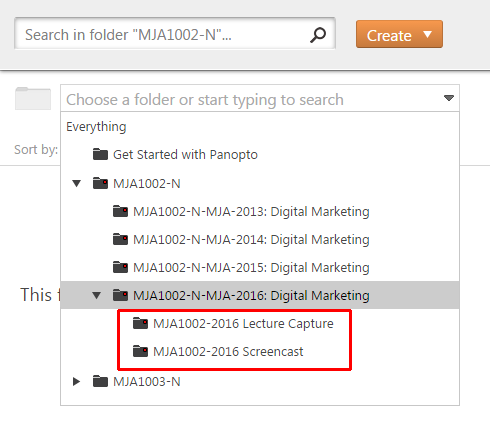 It's best practice to add the relevant module code and year at the start of each sub folder (see image on the right). Although ReView will display sub folders in the folder structure format in most cases, sections within the system may display the sub folders outside the parent folder and you may find it difficult to differentiate sub folders with the same name.
Secure content
Although in many cases students may not have direct access to view the ReView Video Library (until unless a link is provided by staff), it's best to secure sub folder contents that you do not wish to share with your students such as assessment and feedback. Additionally, this prevents students from accessing any confidential content via Panopto mobile app.
Sub folders by default inherit viewing permissions from its parent folder. So if a student has permission to view the recordings in a parent folder, for example MJA1002-N-MJA-2016: Digital Marketing, students will be able to view contents within sub folders such as MJA1002-2016 Lecture Capture, MJA1002-2016 Screencast and so on.
In order to disable this, create a new sub folder following the instructions above. Type in the folder name in the Create Folder pop up and scroll down and untick Inherit permissions from the parent folder option. Then click the Create Folder button.