Quick Parts is a functionality of Microsoft Word and Outlook. Using it could help cut down some of the more time consuming aspects of giving feedback online. This feature lets you reuse text numerous times with the simple click of a button. This could either be on a feedback sheet or straight on to the students work.
Microsoft Word
Saving text
It's quite easy and simple to use. To start saving text for use with Quick Parts;
Write your feedback/text as usual.

Highlight the text you would like to reuse.
Click on the Insert Tab on the menu ribbon.
Under Quick Parts select Save Selection to Quick Part Gallery.
Then give your Quick Part:

A Name.
You can leave it under the Quick Part Gallery.
Pick a Category (See step 6) or use General.
You can also give it a Description if you like.
Leave it to save in Building Blocks.
Pick one of the Options (See step 7) for insertion. Click OK.


If you are creating multiple new quick parts (for example using it for feedback) create a new Category called feedback. This will help you find your text later.
The Options for insertion are;

Insert content only this will insert the quick parts text in to the text on the page.
Insert content in its own paragraph useful for example if you are giving overall feedback at the bottom of the script.
Insert content in its own page. Well it does what it says on the tin!


That's it, your text is now saved in the Quick Parts Gallery to use when ever you like.
Continue to write your text/feedback saving the text you would like to re-use as quick parts as you go along. Repeat the process as many times as needed (remember you can always come back and add more quick parts later).
Adding a quick part text
Adding a Quick Part to your document is even simpler than saving it.
Go to the part of the document where you would like to reuse/insert your saved text and insert your cursor.
Then on the Insert tab (as shown above) click on the Quick Parts button and a drop-down list will display all of your previously saved Quick Parts as text. If you have lots of Quick Parts saved you may need to scroll down till you find the one you need.
Simply click on the one you want and it will be inserted in to the document. You'll see that the text has been added to the place in the document that you selected, in this case it was to add information about referencing.

If your School already uses feedback sheets to give feedback to students and the templates are in Word then you can still use Quick Parts to help you with your feedback.
If you're going to be using lots of Quick Parts it's a good idea to set up categories to enable you to group your Quick Parts together. Naming your categories in relation to the functionality of the Quick Part (for example feedback or referencing) will enable you to retrieve the desired text quickly.

If you want your Quick Part text to stand out, try highlighting it before saving the text. That way every time you use it, the feedback appear as a highlighted text.

Outlook
Microsoft Outlook also has the quick part functionality. Unfortunately it doesn't have access to the same Quick Parts that you used in Microsoft Word therefore you would need to set up a new set of quick parts to use in your e-mails. You can do this in much the same way as you've done it in Microsoft Word, the only difference is you need to be in a writing e-mail window to access the Quick Parts functionality.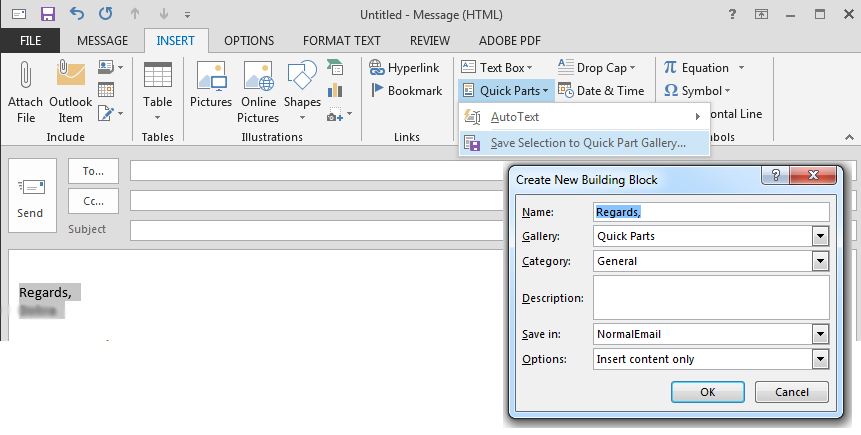 If you would like any more information about Quick Parts and their uses for giving feedback please contact the eLearning team or your School's learning technologist who would be happy to help.