Blackboard's Assignment tool can be used to provide feedback to your students. This tool is most obviously used when an assignment is submitted through Blackboard but it can also be used to provide feedback to students even if the assignment has been submitted elsewhere. This guide looks at how you can provide feedback for an assignment that was not originally submitted via Blackboard.
Blackboard assignment submissions, and feedback on these submissions, are managed from the Grade Centre.
As this guide looks at providing feedback for assignments that were not submitted via Blackboard, we first need to create a 'submission route', thus creating an entry in the Grade Centre which will allow you to enter your feedback.
Creating a submission route
For anyone that has previously created an assignment in Blackboard, that's all we're doing here (except the
assignment will not be shown to students, we're just using it as a means to provide feedback).
In your module ensure Edit Mode is turned On and enter the content area that you want to add your assignment to. As we're not actually going to let the students see this assignment it's not important which content area it is put in, however, it makes sense to add it to your Assessment content area or a relevant area rather than a random folder.
Click the Assessments button at the top of the page and then click Assignment.
Enter the assignment information. Again, as we're simply using this for feedback and not submission you don't need to worry about the majority of the options here. However, it's a good idea to add the word "Feedback" to the assignment Name and it is important to complete the Points Possible field.
This has created an assignment that, if we did a bit of me travel, the students could have submitted to via Blackboard! The important thing is that we've created a submission route and we're ready to go and add our feedback.
Manually entering grades and feedback
From inside your module expand the Grade Centre area of the Control Panel which is below the menu and click on Full Grade Centre. This will take you to an interactive spreadsheet‐like view showing students down one side and assignments, tests and surveys shown as columns along the top. You will notice that a column now exists in the Grade Centre for the assignment you just created.
You might have to scroll to the right to view all of the columns in the Grade Centre.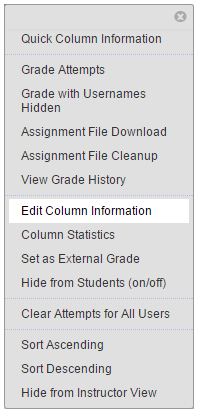 If Blackboard had been used for submissions each cell in the column would contain an icon indicating that there is work to be marked. As we're not using Blackboard to submit in this instance each cell will contain a '‐' to show there is no submission.
First of all you need to change the column display type to reflect the type of grade you want to enter. To do this click on the circular options icon that contains a down arrow at the top of the column and from the drop down menu that appears click on Edit Column Information.
You will be taken to the Edit Column page, from the drop down menu next to Primary Display choose the type of grade you want to enter. If you want to enter a numerical score choose Score, if you want to entered a lettered grade choose Text.

Once you have done this, click Submit to return to the Grade Centre.
Now we need to enter a grade and give feedback. With your mouse pointer hover over the cell that corresponds to the assignment and student, a circular options icon. Click the down arrow and from the drop down menu that appears click View Grade Details.

You will be taken to the Grade Details page, click the Manual Override tab.
Enter your numerical score or lettered grade in the Override Grade field and type in basic feedback in the Feedback to Learner text box. If you don't need to add feedback files for the student you can click Save, if you do need to add files, carry on to the next section.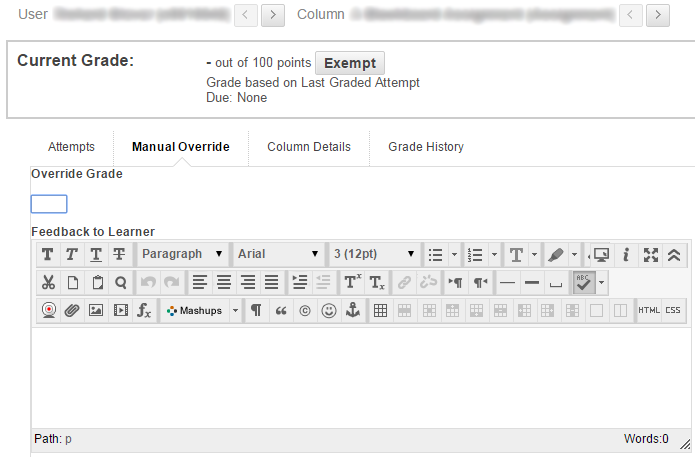 Adding files as feedback
If you want to provide files for your students as feedback (perhaps you have annotated comments on a Word document or even recorded audio or video feedback) you can do this via the Manual Override page you will have been taken to after pressing Save in step 5 above.
In the text editor underneath Feedback to Learner, click the paperclip icon, a pop up window will appear. Click the Browse My Computer button and choose the file you want to add as feedback. You can add multiple files by clicking the Browse My Computer button again. When you're ready click the Submit button.
Ensure the feedback files listed in the Feedback to User section are correct and click Save at the bottom of the page.
Creating a course menu link to My Grades
Students can then view their grade, feedback and any attached files via My Grades on the course menu, if this doesn't appear on your course menu, you can add it by doing the following:
With Edit Mode turned On click the + icon at the top of the course menu, click Tool Link from the drop down menu. Enter 'My Grades' in the Name field and choose My Grades from the Type drop down box. Tick the box for Available to Users and click Submit.
Batch Feedback for Non‐Blackboard Submissions
You can also use the Batch Feedback tool instead of individually uploading feedback files for each student.
Select Upload Feedback and you'll go to the page for putting feedback into Blackboard.

You might want to read this help guide about Batch Feedback for more information.

One thing to remember though ..

Your feedback files will need to follow the standard naming convention for using Batch Feedback.

This format is student id followed by an underscore followed by the rest of the filename – for example : a1234567_MySubmissionFilename.docx.

You can create a set of feedback files named appropriately using the Download Templates feature in Batch Feedback.