An Assignment is Blackboard's facility for electronic submission of a file or files. Blackboard's Assignment tool can be used to add assignments to any content area in your module. You can add a file or document with instructions, retrieve completed assignments from students, and grade these assignments via the Grade Centre. This guide looks at how to create an assignment.
Creating an Assignment
To create an assignment: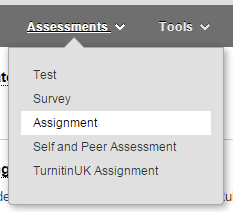 From within your module, navigate to the content area that you wish to add your assignment to. E.g. 'Assessments'.
With Edit Mode switched ON, go to the Assessments menu and click Assignment from the drop down menu.
Complete the required details on the Create Assignment page.
Assignment Information
Enter a Name for your assignment and choose the colour this name will appear in the content area. Enter some Instructions for your students to follow. These instructions could be a about the work students need to do or how to submit work once it's ready.
Assignment Files
Upload any files (an assignment brief, for example) your students may need for the assignment. Click Browse My Computer to select a file from your computer.
Due Dates
Set the Due Date for your Assignment. You can enter a date and time using the controls provided.
Grading

The Grading section allows you set various settings for the assignment. Enter a value in the Points Possible field – if you are grading with percentages, enter 100. You can also associate Rubrics with your assignment if necessary.
There are three further optional settings in the Grading section which can be clicked to expand them.
Submission Details: Select general settings such as who the assignment is for and how many times students can submit to it. Here you can allocate the assignment to specific Groups if you have setup Groups in your module. (For Group assignments, only one submission per Group is required. Upon submission, the 'Needs Grading' status will be displayed for all students in the Group. You can, however, provide separate marks and feedback to each student.)
Grading Options: Here you can enable Anonymous Marking and Delegated Marking. With Anonymous Marking, student names are hidden during the grading process. Note that if student names are in the actual document, then these will not be hidden.
With Delegated Marking, you can choose to delegate grading to multiple module leaders. This could be used for second marking purposes. Each person provides separate grades and feedback to students. Students will not see a final grade until it has been reconciled in the Grade Centre. By default, module leaders have reconciling abilities.
When you select the check box for enabling delegated marking, you can view a list of potential markers (usually module leaders). Use the drop-down list next to each user's name to select which submissions to grade. You can select:
All Submissions
Random Set: Grade a random set of the selected number of students. If you assign multiple markers to grade a random set, students are distributed evenly before any student is included in multiple random sets.
Groups: Grade all students who are part of selected groups (if you have Groups created)
None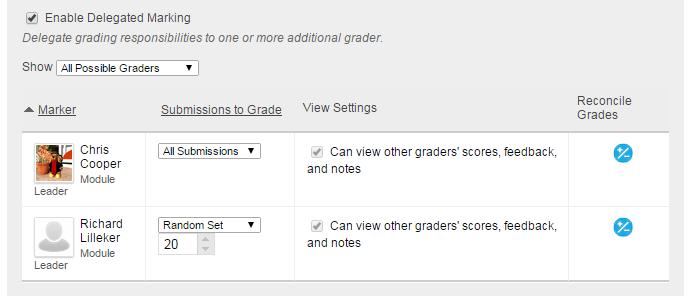 Display of Grades: Select Grade Centre column settings, such as the display of grades and whether or not you want to show them to students in My Grades. Only your Primary selection appears to students. If you are marking with percentages, be sure to select Percentage from the Primary Display drop down menu. You can change these settings later in the Grade Centre.
Availability
Set the assignment availability here. If you don't want to make the assignment available straight away, then un-tick the box labelled Make the Assignment Available. Alternatively, you can set Display After and/or Display Until dates/times to limit the availability of the assignment and control when it is available to students.
Tick the Track Number of Views box if you want to enable statistics tracking for the assignment.
Assignments in Calendar
All assignments are now added to the module Calendar and will appear in students' calendars on Blackboard. You can also edit the assignment Title and Due Date directly from the Calendar by clicking on the event and modifying the details in the pop-up box.