This user guide explains the different ways you can copy content between modules.
Understanding how content will be copied.
Please read this below to fully understand how material will be copied into your existing module.
New Blackboard modules are always created as a copy of your School Template, rather than as a copy of last year's module.
Why do we do this?
Every year Blackboard is updated with new features and functionality.
Schools often need to update modules with new default content around Module Guides, assignment procedures etc.
How to Course Copy
You can copy materials/content from one module into another module which already exists in Blackboard by using the Course Copy feature. Only the content you select will be copied; existing content will not be removed from the destination module. Before you begin: In order to copy content from one module to another, you must be enrolled as a module leader on both modules. Ensure Blackboard shows you as teaching the module you want to copy from and shows you as teaching the module you want to copy to.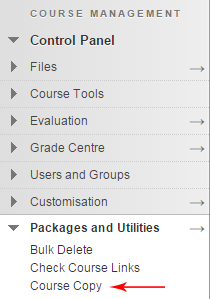 Go to the module from which you want to copy materials/content from.
On the Control Panel, expand the Packages and Utilities section and click Course Copy.
Copy Type should be set to Copy Course Materials into an Existing Course (the only option available).
Under Select Copy Options, click Browse to choose the module into which you want to copy the content. A pop‐up window will appear which lists all of the modules that you are enrolled on. Be very careful to select the module for the right academic year (the Course ID will end with the year).
Select the module by clicking the radio button in the left‐hand column and then click Submit. The course ID will automatically by inserted into the Destination Course ID box.
Now select the materials and/or tools that you want to copy over to the existing course. We recommend that you only copy module specific teaching materials (e.g. Learning Materials, Quizzes and External Links).  If you use them, you may also want to copy Selected Readings.

Please do not select non-teaching materials to copy (e.g. Module Guide or Assessment).  The School Templates contain content areas into which Module Guides (etc) can be dropped. Please do not select any options below Adaptive Release unless you are very, very sure of what you are doing, as this will cause problems for you later on.

Also, do not select the Module Box item, the module box is unique to each module and you'll receive an error message if you try and copy this item between modules.

When you have finished, click Submit.
If successful you will see a green success message near the top of your screen.   You will receive an email to tell you that the copy is finished. The email is sometimes sent too early so if the copy does not look complete, please wait 15 minutes.
Understanding the Copy Options
Content Areas
Selected course menu areas are copied if selected e.g Learning Materials. Content areas on the Course Menu that have the same name in each module will be added to the same content area. For example; if both modules have a content area called "Learning Materials", then content from this area will be copied from the source module into the same area in the destination module. Nothing is removed from the destination module.
Course Tool and Settings Options
As a rule you do not need to select any of the options below (and including) the Adaptive Release area.  We recommend that only static content or Course Materials relevant to your new module are copied.  Most Course Tools and areas with date specific settings are best set up again in your new module.
The following Course Tool options should only be selected if absolutely necessary and you understand the expected results.

Announcements: All announcements are copied. We recommend not to copy announcements since they probably won't be relevant to the new module.
Calendar: All calendar items are copied.  Repeated calendar items will be included ensure that the dates are still relevant for your new module timetable.
Contacts: previous module contacts are currently not copied.
Discussion Board: Discussion Board forums, select 'only the forums with no starter posts' option otherwise initial postings will be visible.
Groups: Settings include the names of the groups, the settings for tool availability, and the discussion board forum names.
Rubrics: Copies any Blackboard marking Rubrics in your module.  Turnitin Rubrics are attached to your profile and do not need to be copied.
Blogs and Journals: these are copied over without student content.  The blog or journal will need to be re-deployed in the new module.
Tests, Surveys and Pools: All Tests and Surveys, including questions and options for deploying them are copied. All pools are copied. However, to use copied Tests and Surveys, you will need to re‐deploy them in content areas in the destination module.
Settings:  Navigation settings will copy a customised style from the module i.e background colour and default content view.