The Batch Feedback tool allows you to perform three tasks:
Download assignment submissions
Generate templates to use for providing feedback
Upload feedback to the Grade Centre in a batch
This user guide looks at uploading feedback to the Grade Centre.
In the new version of the Batch Feedback tool, the process for uploading feedback files has changed significantly with the introduction of drag-and-drop functionality for uploading files.
Files must still be named appropriately in order to work with the tool – that is – prefixed by the unique student number. For example:
f6012229_Forename_Surname_Assignment1_Feedback.docx
However, there is no longer a requirement to zip up your feedback files and upload the zip package. The Batch Feedback tool will no longer accept zip files.
To upload your feedback:
Go to your module and choose Batch Feedback from the Evaluation section of the Control Panel.
Click Upload Feedback.
Select the assignment for which you want to upload feedback from the drop-down menu.

If you only want to upload feedback for a specific group of students, click Advanced Group Options, choose Select Group of Students and then choose a group from the drop-down menu. Otherwise, the tool will assume you are working with all students on the module (note you do not necessarily need to upload feedback for all students). Note: You need to have setup groups in your module before using this option.

In the Upload Feedback Files section, you can add feedback files in two ways:
Drag and drop files from your computer into the space provided (either individually or multiple)
Click Select Files to choose files from your computer using a traditional interface (either individually or multiple)

Remember filenames should be prefixed by a student user id, as explained above. Files previously downloaded using Batch Feedback will be named in this correct format.
Tip: If you're using Google Chrome, you can drag and drop an entire folder of files. All files in the folder will be displayed in the list.
The green progress bar underneath the drag and drop area will appear when you start uploading files. As files are uploaded, they will appear in a table below the drag and drop area. The "Upload Complete" message will appear when all uploads have finished.
Each file will be checked by Batch Feedback to ensure that it is named correctly and matches a student in the module. If an error occurs, it will be displayed in red text in the Confirm Upload column.
The tool will also check for any duplicate named files you may have already uploaded to the Grade Centre for this assignment. If duplicates are found, you will be presented with a warning. If you proceed with the upload, the file(s) will be renamed accordingly.
Files which pass the validation checks and match a student in the module will appear with a "Score" box, a "Confirm" button and a "Delete" button. Any files that you do not wish to upload can be removed simply by clicking the Delete button. You can see these options in the screenshot above.
You can enter a grade for the student in the Score box (if a grade doesn't already exist; for attempts which have already been graded, Batch Feedback will display the current grade here). Alternatively, you can leave the hyphen "-".
You can confirm and upload files to the Grade Centre either one-at-a-time or all at once. Click the Confirm button in the "Confirm Upload" column to upload single files. Alternatively, simply click the Confirm All Uploads button at the top of the table to confirm and upload all valid files and grades to the Grade Centre.
When files are successfully uploaded, you will see the message "Uploaded to Grade Centre".
Tip: If students have not submitted via Blackboard, then you can still use Batch Feedback to upload grades and feedback. Simply proceed with the steps above and an attempt will automatically be created when you confirm and upload grades and/or feedback files.
Informing Students via Email and/or Announcement
After confirming one or more uploads, the Send Email button will appear above the table of files. This provides you with the option to post an announcement in the module and/or send an email to students, informing them that feedback is available.
Click the Send Email button.
In the form which appears, tick Post Announcement (if you want to post an announcement). If you want to send an email, tick Send Email to Students with Feedback. This will only send an email to students for whom you have uploaded feedback files. If you want all students to receive the email, then tick the Send email to all students in the module.
Enter an Announcement Title and then enter your message into the text box editor.
Click Submit. An announcement will be posted and an email will be sent, depending on the options you selected.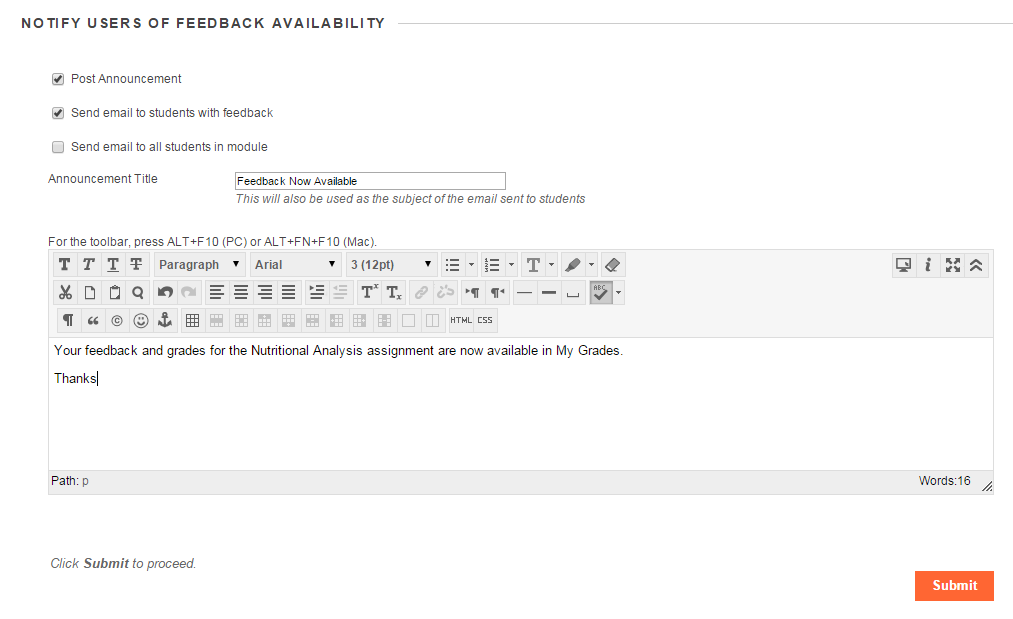 How to Check Your Grades and Feedback have been Uploaded
You can check to see if your grades and feedback have been uploaded either by:
a) Going to the Grade Centre: You can view grades and feedback by navigating to the attempt.
b) Going to My Grades: The My Grades tool allows you to check what the students will see. Your initial view of My Grades will display a list of all students on the module. Click on a student name to view exactly what the student sees – you can see grades and links to any feedback files you have uploaded, allowing you to verify everything has been uploaded correctly.